Any successful personal injury case will yield some amount of compensatory damages. Such damages reimburse the plaintiff for losses that he or she actually incurred such as medical bills, lost wages, and pain and suffering.
But what if the defendant's conduct was especially egregious? Having to cover a mere compensatory award may not be punishment enough, nor may it deter such recklessness in the future. Because Minnesota recognizes that this is sometimes the case, you may be able to seek punitive damages in addition to the standard compensatory damages, depending on the facts surrounding the tort.
In order to secure punitive damages, personal injury claimants must prove how the defendant acted with deliberate disregard for the rights of others or with the knowledge that his or her conduct was likely to cause injury.
Because every case is unique, there's no guarantee that a particular scenario will warrant a punitive award. There are some circumstances, however, that call for punitive measures more often than not.
If you were struck by a drunk driver who ran a red light, for example, seeking punitive damages would not be unreasonable. Licensed motorists should know that getting behind the wheel while impaired has a high probability of causing harm to either themselves or others. Cases involving domestic violence or physical altercations like assault and battery may warrant punitive damages, as well.
You may also be able to seek a punitive award if the defendant altered or destroyed evidence pertaining to the claim. If you received substandard care from healthcare providers, for example, but your records were doctored so there is no clear link between the malpractice that occurred and the complications you suffered, you may be entitled to punitive damages.
How Can I Strengthen My Claim for Punitive Damages?
If you were hurt in a scenario that warrants punitive damages, a resourceful personal injury attorney can help you prove as much. In addition to gathering evidence, your legal team can also provide instructions for navigating the proceedings so your case has the best chance of yielding fair compensation.
Generally speaking, you may be instructed to:
• Write down everything you remember about the incident in question as soon as possible;
• Stay off social media, or at least avoid posting about the accident, your injuries, your expenditures, or the pending claim;
• Refer all correspondence from the opposing party to your lawyer;
• Decline to give the claims adjuster a recorded statement; and
• Give your legal team any evidence you gathered at the scene such as photographs and eyewitness statements.
Call 800-770-7008 for a Free Consultation with a Minneapolis Personal Injury Attorney
If you intend to file a personal injury claim, contact Bradshaw & Bryant for strategic guidance every step of the way. Our team or attorneys will conduct a thorough investigation to identify all responsible parties so you can seek the funds needed to make your life whole again. Call 800-770-7008 or use our Online Contact Form to set up a free consultation with a personal injury lawyer in Minneapolis.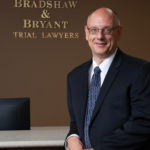 A founding partner with Bradshaw & Bryant, Mike Bryant has always fought to find justice for his clients—knowing that legal troubles, both personal injury and criminal, can be devastating for a family. Voted a Top 40 Personal Injury "Super Lawyer"  multiple years, Mr. Bryant has also been voted one of the Top 100 Minnesota  "Super Lawyers" four times.