Whenever you visit a place of business or an apartment complex, it's reasonable to assume you won't get hurt. After all, owners and occupiers have an obligation to maintain their premises to a reasonably safe standard. As long as you aren't trespassing, this obligation extends to protect you, too.
Unfortunately, as many injured parties have learned the hard way, people don't always address hazards on their property in a timely manner. Indeed, falls are responsible for millions of emergency department visits every single year.
If you slipped and fell when you were running errands or seeing friends, you may be wondering what kind of recourse you have. After all, the damages that can stem from such accidents—including medical bills, lost wages, and emotional distress—tend to add up fast.
Thankfully, you may be able to take action against the owner or occupier who failed to maintain the property. As long as you can prove the following four elements, you should have grounds for a premises liability claim:
1. A Duty of Care
Aside from a few rare exceptions, individuals and businesses don't need to maintain their premises for trespassers. As long as you had the legal right to be on the property at the time, though, the owner or occupied owed you a duty of care.
2. A Breach of Duty
After demonstrating that the owner or occupier owed you a duty of care, you must show how they breached it. For example, did they fail to warn visitors of an inconspicuous threshold? Did they neglect to clean up a spill in a timely manner?
Proof that may help you prove a breach of duty includes:
• Photographs of the scene;
• Surveillance footage of the accident;
• Statements from eyewitnesses;
• Standard operating procedures; and
• Maintenance logs.
3. Causation
The slip and fall must have been solely responsible for the injuries you sustained. If you visited a doctor shortly after the incident, your medical records should ensure a link between the accident and your condition.
If you postponed seeking treatment, on the other hand, you may have to bolster your claim with statements from various specialists who can speak on the nature of your injuries and their most likely causes.
4. Damages
To have grounds for a premises liability claim, you must have suffered losses as a result of the slip and fall. In Minnesota, recoverable damages include:
• Hospital bills;
• Anticipated medical expenses;
• Lost wages;
• Loss of future earnings and benefits;
• Home and vehicle modifications;
• Replacement services;
• Pain and suffering;
• Mental anguish; and
• Loss of enjoyment in life.
Discuss Your Claim with a Premises Liability Lawyer in Minneapolis
If you were seriously hurt on someone else's property, contact Bradshaw & Bryant. For six years in a row, attorney Michael Bryant has been named a SuperLawyer and has been recognized among Minnesota Law & Politics' Top 40 Personal Injury Lawyers. Call 800-770-7008 or complete our Online Contact Form to schedule a free case review with a premises liability attorney in Minneapolis.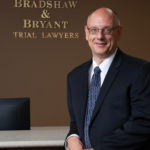 A founding partner with Bradshaw & Bryant, Mike Bryant has always fought to find justice for his clients—knowing that legal troubles, both personal injury and criminal, can be devastating for a family. Voted a Top 40 Personal Injury "Super Lawyer"  multiple years, Mr. Bryant has also been voted one of the Top 100 Minnesota  "Super Lawyers" four times.