That question is not easy to answer without knowing the facts in the case, however there are a couple of things that should be considered.
1. It is free to talk to a personal injury attorney in almost every case. Consequently, sitting down and discussing your case with an attorney does not cost you anything and will help you gain a lot more in understanding your rights.
2. Early investigation can make a difference. There is absolute proof out there that the first investigators who get to witnesses have an impact on how and what they remember. If the insurance company or the defense has somebody out there already, you may be losing vital time for very important witnesses or recovering very important evidence.
3. If you get better, you may not have a claim. If you get better, you are one of the happiest clients that we have because we were able to help you with whatever questions you had, and at the same time you got completely better. You will not get any money but you are a lot better off by protecting your rights and not having a significant long term problem.
Who you talk to and when you talk to them can make a big difference to your case. If you are in a collision, it is okay to hope that you will get better. It is also okay to not want the extra problems that come with the collision, but to protect you and your family's rights, an early consultation will make a big difference.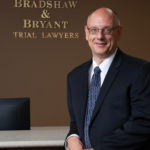 A founding partner with Bradshaw & Bryant, Mike Bryant has always fought to find justice for his clients—knowing that legal troubles, both personal injury and criminal, can be devastating for a family. Voted a Top 40 Personal Injury "Super Lawyer"  multiple years, Mr. Bryant has also been voted one of the Top 100 Minnesota  "Super Lawyers" four times.