No one anticipates a trip to their dream destination turning into a total nightmare. As many travelers have learned the hard way, though, vacation injuries are all too common.
If you were seriously hurt while staying at a hotel, you're probably wondering who's to blame. You're going to have to assign liability, after all, in order to seek compensation for the associated damages.
Generally speaking, hotels are responsible for accidents that occur on their premises. As long as you can prove the following elements, you should be able to name the establishment in your injury claim:
1. You Were Lawfully Allowed to Be in the Area of the Hotel Where the Accident Occurred at the Time
You must not have been trespassing at the time of the accident. If the hotel was closed to the public for maintenance, for example, you're going to have a hard time shifting blame their way. That's assuming, of course, that there was clearly marked signage stating the hotel was closed, but you entered the premises anyway.
It's also worth noting that even when hotels are open to the public, certain areas may remain off-limits to guests. Such areas should be clearly marked and/or inaccessible without a key. When a guest blatantly ignores signage or locks, they're usually unable to take action against the hotel if they get hurt in the process.
2. The Accident Occurred Because the Hotel Failed to Maintain Their Premises
Hotels have an obligation to their guests and all those who lawfully enter the property to maintain the premises to a reasonably safe standard. Breaching this duty constitutes negligence, which is the foundation of most personal injury actions.
In order to hold a hotel liable for injuries you sustained while staying there, you're going to have to prove they were somehow responsible for the accident. Put another way, you'll have to convince the insurance adjuster that you wouldn't have gotten hurt had the staff performed their job duties up to the normal, industry-wide standards.
3. You Incurred Actual Damages as a Direct Result of the Accident
It's not enough to merely slip or trip if you're able to brush yourself off and keep going. You must have sustained physical injuries and suffered actual losses as a result of the accident in order to be eligible for compensation.
Thankfully, Minnesota tort law recognizes both monetary and non-monetary losses. That means in addition to medical bills and lost wages, you may be able to seek compensation for things like pain and suffering, mental anguish, and loss of enjoyment in life.
Call 800-770-7008 to Speak with a Hotel Accident Attorney in Minneapolis
Did you sustain devastating injuries while staying at a hotel? Do you think the staff was to blame for the accident? To see if you might be entitled to compensation, turn to Bradshaw & Bryant.
Our firm is devoted to helping injured parties make their lives whole again. To set up a free case review with a hotel accident lawyer in Minneapolis, complete our Contact Form or call 800-770-7008.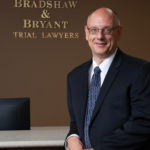 A founding partner with Bradshaw & Bryant, Mike Bryant has always fought to find justice for his clients—knowing that legal troubles, both personal injury and criminal, can be devastating for a family. Voted a Top 40 Personal Injury "Super Lawyer"  multiple years, Mr. Bryant has also been voted one of the Top 100 Minnesota  "Super Lawyers" four times.