When you drop your kids off at school each morning, it's with the assumption that the faculty and staff are going to take good care of them. Regardless of how old your children are and how much supervision they may need, it's not unreasonable to expect them to make it through the day unscathed.
Unfortunately, as many families have learned firsthand, this is not always the case. Students across America get hurt while on school grounds every single day.
If your son or daughter is recovering from injuries sustained in class, during recess, or at sports practice, you're probably wondering who's to blame. After all, you can't take legal action in pursuit of damages until you know who was ultimately responsible.
Generally speaking, the school will be deemed liable if they somehow breached the duty of care they owed to your child. In other words, if faculty or staff could have prevented the incident had they taken reasonable measures, you likely have grounds for a claim against the facility.
Let's take a look at the kinds of scenarios that can lead to accidents for which a school is deemed liable:
• The janitorial staff was undertrained, understaffed, or underequipped to clean up spills in a timely manner;
• The grounds were poorly maintained;
• The maintenance staff failed to address hazards they knew about or should have known about;
• The coaching staff failed to implement reasonable measures to keep their players safe; and
• The staff failed to monitor the grounds adequately enough to prevent physical altercations between students.
In order to hold the school accountable for your child's injuries, you're going to have to prove that they were somehow negligent. If your son or daughter was merely having a clumsy moment and tripped and fell, the school probably won't be responsible. If, on the other hand, faculty or staff failed to ensure a safe learning environment and one of their oversights led to your child's injuries, you may be able to sue for damages.
How Can I Prove the School Is Liable for My Child's Injuries?
Naturally, the strongest evidence that will contribute to your family's claim will depend on the circumstances surrounding your child's accident. Regardless of the specifics, though, you'll probably need to present at least a few of the following to demonstrate negligence on the part of the school:
• Photographs of the accident scene;
• Video footage of the incident;
• Statements from students, teachers, and other individuals who witnessed the accident;
• The facility's hiring processes, training protocols, and standard operating procedures;
• The facility's maintenance logs; and
• The administration's incident report.
Call 800-770-7008 for a Free Case Review with a Minneapolis Personal Injury Attorney
If your child was seriously hurt at school, turn to Bradshaw & Bryant for help. Our compassionate team will investigate the circumstances surrounding the accident so you can hold all liable parties accountable To schedule your free initial consultation with a personal injury lawyer in Minneapolis, call 800-770-7008 or fill out our Contact Form.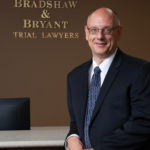 A founding partner with Bradshaw & Bryant, Mike Bryant has always fought to find justice for his clients—knowing that legal troubles, both personal injury and criminal, can be devastating for a family. Voted a Top 40 Personal Injury "Super Lawyer"  multiple years, Mr. Bryant has also been voted one of the Top 100 Minnesota  "Super Lawyers" four times.