When a big rig collides with another vehicle, jackknifes across multiple lanes of traffic, or flips over while rounding a curve, it's reasonable to blame the trucker. In some scenarios, though, such accidents aren't actually the result of driver error.
A fully loaded tractor-trailer can weigh as much as 80,000 pounds. Assuming the vehicle itself weighs about 40,000 pounds, that leaves room for 40,000 pounds of cargo, which is more than enough to inhibit operations if it's not secured properly.
Shifting cargo is incredibly dangerous in moving traffic. It can cause catastrophic collisions despite otherwise perfect conditions. The vehicle might be well maintained, for example, and the driver might be following all the rules of the road. Should the cargo start shifting around, though, it could become virtually impossible for the trucker to maintain control.
Who Might Be Liable for an Accident Caused by Shifting Cargo?
Since motor carriers usually contract out the loading to third parties, they are rarely to blame for wrecks caused by shifting cargo. As long as they performed their due diligence when vetting cargo loading companies, they are unlikely to shoulder liability for such collisions; however, that doesn't necessarily mean the loading contractor will automatically cover the resulting damages.
In order to file a successful claim against the company that loaded the trailer, victims will first have to determine how the company was negligent. Then, they will have to prove how said negligence caused the crash in which they were hurt (or in which their family member died).
There are a number of ways unsecured cargo can cause devastating traffic accidents. If the load is unbalanced, for example, the truck might topple over when rounding an on- or off-ramp. If the contents actually fall out the back of the trailer, they will pose a serious hazard for all the vehicles traveling behind the truck.
How Can I Prove the Cargo Loading Company Was Negligent?
A resourceful legal team can help you gather evidence of negligence by conducting a thorough investigation. Depending on the circumstances, evidence to strengthen your claim might include:
• Dash cam recordings of the crash;
• Surveillance footage of the contractor loading the trailer;
• Eyewitness testimony;
• The official police report;
• Photographs of the wreckage;
• Bills of lading;
• The cargo loading company's standard operating procedures; and
• The motor carrier's contract with the cargo loading company.
While such evidence can lend to a strong personal injury claim, it's important to remember that proving liability is only half the battle. You will also have to prove that you incurred actual damages as a direct result of the wreck. Evidence of damages may include medical records, hospital bills, invoices for vehicle repairs, financial documents, and other kinds of receipts. Personal injury journal entries could also prove valuable when it comes time to quantify non-economic damages like pain and suffering.
Discuss Your Case with a Truck Accident Lawyer in Minneapolis
If you were hurt in a truck accident through no fault of your own, contact Bradshaw & Bryant. We rely on first-rate experts and cutting-edge technology to represent our clients' best interests while maximizing the potential value of their claims. Call 800-770-7008 or use our Online Contact Form to set up a free consultation with a truck accident attorney in Minneapolis.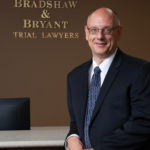 A founding partner with Bradshaw & Bryant, Mike Bryant has always fought to find justice for his clients—knowing that legal troubles, both personal injury and criminal, can be devastating for a family. Voted a Top 40 Personal Injury "Super Lawyer"  multiple years, Mr. Bryant has also been voted one of the Top 100 Minnesota  "Super Lawyers" four times.