If you were recently involved in a motorcycle accident, you might be counting on the insurance settlement to pay for your medical bills, lost income, and other damages. Unfortunately, insurance companies will go to great lengths to dispute claims, especially when a considerable amount of compensation is on the line. Since motorcycle accidents often result in catastrophic injuries, it is essential that you hire an attorney to protect your case.
The best time to contact a lawyer is immediately after your first visit to the doctor, which should take place once you leave the scene. While it is always a good idea to speak with a lawyer about your case, it is especially important that you do so if one of the following is true:
1. You Were Seriously Injured
The more money that's at stake for the insurance company, the more resources they will likely invest into disputing your claim. They will also have more incentive to undervalue certain damages or to leave them out of the settlement entirely. A motorcycle accident lawyer can make sure the claims adjuster doesn't take advantage of your vulnerable position.
Also, calculating damages can be incredibly complicated in cases that involve catastrophic injuries. Anticipated medical bills, future loss of income, and non-economic damages must be calculated based on the relevant statutes and case law or a dispute will almost certainly arise.
2. Your Own Negligence Was a Contributing Factor
Minnesota follows a modified comparative fault rule, which means the final payout in a personal injury case is reduced by the claimant's own percentage of fault; however, if the claimant is deemed more liable than the other parties involved, the claimant will be barred from recovering any compensation all.
If your own negligence contributed to the crash in any way, the insurance adjuster may try to place 100 percent of the blame on you, or an unreasonably high percentage. A skilled attorney may be able to get the percentage of fault imposed on you reduced, which might translate into substantial compensation depending on the circumstances.
3. You Had a Preexisting Condition That Was Aggravated in the Accident
If you had a preexisting injury or illness that was worsened by the accident, you might face a dispute over causation, meaning the defendant might assert that you are claiming damages that weren't caused in the crash. A seasoned attorney will know how to counter this defense using medical records and the deposition of your treating physician and various medical experts.
Discuss Your Claim with a Motorcycle Accident Attorney in Minneapolis
If you were hurt in a motorcycle accident through no fault of your own, contact Bradshaw & Bryant. We offer the resources of a large practice while still providing the personal touch a small, local firm.
Call 800-770-7008 or use our Online Contact Form to set up a free case evaluation with a motorcycle accident lawyer in Minneapolis. We will come to you if you are unable to come to us.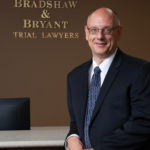 A founding partner with Bradshaw & Bryant, Mike Bryant has always fought to find justice for his clients—knowing that legal troubles, both personal injury and criminal, can be devastating for a family. Voted a Top 40 Personal Injury "Super Lawyer"  multiple years, Mr. Bryant has also been voted one of the Top 100 Minnesota  "Super Lawyers" four times.