Parts of Minnesota get more than 6 feet of snow per year. Coupled with winter's freezing temperatures, that kind of precipitation can make for incredibly slick roads all season long.
When conditions are especially bad, it's best to avoid driving altogether. When that's not an option, make sure to exercise extreme caution. Reduce your speed considerably, for example, and don't make any sudden maneuvers.
If you were hurt in a winter wreck despite your best efforts to avoid one, you may be entitled to compensation. Before you can seek a payout, though, you'll have to determine who was to blame for the crash.
Let's take a look at some of the most likely culprits:
1. Another Motorist
When conditions are less than perfect, motorists have an obligation to adjust their driving. They also have a duty to avoid driving at all if their vehicle is not equipped to handle the hazards that are present.
If you were hurt because another motorist failed to act with reasonable care, you may be able to file a third-party claim with his or her insurer. Since Minnesota has a no-fault system, though, you'll have to meet the state's serious injury threshold before doing so.
2. A Vehicle or Parts Manufacturer
If the accident was caused because the vehicle—or one of its parts—was defective, you may have grounds for a claim against the manufacturer. Since proving fault in such a scenario can be challenging, though, it's wise to hire a personal injury attorney who's well-versed in product liability as soon as possible.
3. An Auto Body Shop
Sometimes, motorists lose control in traffic not because of defective parts but, rather, shoddy mechanics. When this is the case, the auto body shop that performed the work may be deemed liable.
4. The Agency Responsible for Maintaining the Road Where the Incident Occurred
Both state and city governments are responsible for keeping the roads reasonably safe. If they fail to do so and a collision results, they can be held accountable for all associated damages.
It's important to keep in mind, however, that suing a government agency comes with a few more hurdles than taking action against a private citizen. For example, whereas the standard statute of limitations for personal injury suits founded on negligence is six years, those who wish to sue a government entity must submit formal notice of their claim within just 180 days.
Speak with a Minneapolis Car Accident Attorney
If you were hurt in a wreck caused by winter weather, contact Bradshaw & Bryant to see if you might be entitled to compensation. Our compassionate team is committed to giving clients the personal attention, tailored legal solutions, and straightforward answers they deserve.
By letting us handle the logistics of your claim, you can focus on more important matters, like making a full recovery and taking care of your family. Call 800-770-7008 or fill out our Contact Form to schedule a free consultation with a car accident lawyer in Minneapolis.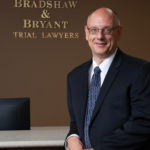 A founding partner with Bradshaw & Bryant, Mike Bryant has always fought to find justice for his clients—knowing that legal troubles, both personal injury and criminal, can be devastating for a family. Voted a Top 40 Personal Injury "Super Lawyer"  multiple years, Mr. Bryant has also been voted one of the Top 100 Minnesota  "Super Lawyers" four times.