American traffic deaths have increased for the first time in eight years. The National Safety Council (NSC) announced Tuesday that there were 36,200 motor vehicle fatalities in 2012. That's a five percent increase over 2011, and the first increase since 2005. Janet Froetscher, head of the NSC stated:
NSC is greatly concerned with the upswing in traffic fatalities on our nation's roads…Although we have improved safety features in vehicles today, we also have new challenges, especially as it relates to teen and distracted driving, that need to be addressed on a national scale. We must work together now to reverse this latest trend to prevent needless tragedy.
The NSC report discussed societal costs of traffic crashes:
In addition to devastating human loss, motor vehicle crashes present a significant national cost in lost wages and productivity, medical expenses, administrative expenses, employer costs and property damage. The estimated cost of motor vehicle deaths, injuries and property damage in 2012 was $276.6 billion, a five percent increase from 2011.
The Star Tribune and TwinCities.com/Pioneer Planet were among local news outlets that noted the milestone.
Over 25 years ago, I wondered whether technology was going to make my career as a personal injury lawyer obsolete. Obviously, fewer deaths and injuries is the goal of airbags, anti-lock brakes, electronic stability control, and other tecnological crash protection features. No one could be happier to see fewer deaths and injuries, although at my age, I'd hate to have to re-learn how to write wills!
The last seven years seemed to confirm that concern. But even though cars are incredibly more safe than 25 years ago, more people are dying and getting injured. Why?
Is there any doubt that drivers are driving faster and more distracted than they ever have? If you drive less than 10 miles over the speed limit on a Minnesota Interstate, your life is at risk from angry drivers passing you. And I continue to see more and more drivers with a cell phone pressed to their ear (keeping one hand from the wheel and one ear deaf to surroundings). Even worse are people clicking away, texting or even checking e-mail and browsing the internet on their smart phones!
Sadly, until people start driving more safely, there will always be work for those of us dedicated to helping the victims of highway mayhem pick up the pieces.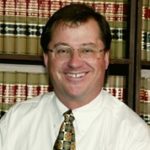 As a partner with Bradshaw & Bryant, Joe Crumley has over 20 years experience with the firm—helping injured people and their families to secure just and fair compensation. Excelling in personal injury litigation, Mr. Crumley has secured numerous record-setting verdicts and settlements and won accolades such as MTLA's "Trial Lawyer of the Year" and "Excellence" Awards.