Traffic fatalities cost the United States billions in medical expenses and lost productivity every year. According to the Centers for Disease Control and Prevention (CDC), collision deaths cost the country $44 billion in 2013 alone.
The CDC also reports that traffic fatalities cost the state of Minnesota more than $520 million that year. Motorcycle riders are especially vulnerable to severe injuries in the event of an accident because they have little protection from impact.
Unfortunately, even the most cautious and experienced riders are at risk of getting into a catastrophic wreck. All it takes is one drunk or distracted driver to cause a tragedy.
When riders get hurt because of someone else's recklessness, they have the right to bring a personal injury claim for their damages. For such a claim to be successful, evidence must be shown to prove liability and damages.
Here are just a few kinds of evidence that can be used to strengthen your motorcycle accident claim:
Helmet Cam Footage 
Installing a special helmet camera could pay for itself thousands of times over in the event of a serious collision. Any footage that the device captures may help you prove liability and recover the compensation you deserve after an accident. Dash cam footage from passing cars or vehicles that were involved could also contribute to the strength of your claim. 
Eyewitness Testimony 
If you record the names and contact information of any eyewitnesses, your personal injury attorney will contact them to obtain their statements. Such testimony could corroborate your version of the events leading up to the wreck. 
Photographs of the Scene 
Even if there is no available camera footage, photographs of the scene can help accident reconstruction experts determine precisely what happened. If you are well enough to document the area after the crash, take pictures from all angles, and be sure to include details like weather conditions, skid marks, and nearby traffic signals. 
Official Police Report 
Get the names and badge numbers of the officers who respond to the scene. They should draft an official report regarding the incident, which can serve as valuable evidence of liability. 
Hospital Bills 
After using the above evidence to prove liability, you will need to prove that you incurred damages in order to recover compensation. Hospital bills, medical records, pharmacy receipts, and income statements detailing any missed work can all help prove damages.
Discuss Your Case with a Minnesota Motorcycle Accident Lawyer Today! 
If you were hurt in a motorcycle accident, the compassionate and strategic Minneapolis injury lawyers at Bradshaw & Bryant will help you compile evidence and fight for the compensation you need to move on with life. Our lawyers have many decades of combined experience helping the injured pursue justice and the maximum compensation.
Our accident lawyers are seasoned settlement negotiators and skilled litigators. Call 320-259-5414 or fill out our Contact Form to schedule a free case evaluation with a motorcycle accident lawyer.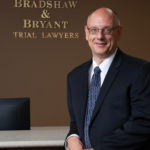 A founding partner with Bradshaw & Bryant, Mike Bryant has always fought to find justice for his clients—knowing that legal troubles, both personal injury and criminal, can be devastating for a family. Voted a Top 40 Personal Injury "Super Lawyer"  multiple years, Mr. Bryant has also been voted one of the Top 100 Minnesota  "Super Lawyers" four times.