We've already been spending early  summer in start and stop traffic.   Sure, it can be a hassle, but the reality is, that a better road will make the trip easier come fall and winter. The unfortunate sight, is to see the number of collisions that slow things down even before the construction zone.   There has already been 275 crashes  in the area between Nicollet Avenue in Minneapolis and Shingle Creek Parkway in Brooklyn Center.  So the Minnesota Department of Transportation reduced the speed limit from  60 mph  to 50 mph Tuesday night.
There are big signs, electric notices and state workers out there in orange vests. But still, people drive to fast and continue to not pay attention as they call and suffer from, as my fellow writer from Oklahoma Noble McIntyre describes, driving inTEXTicated .
Hopefully, people will be on the alert and not add to the slowdowns.
Also keep in mind that work zones come with double fines.
Other safety tips include:
Stay alert, expect the unexpected.
Allow ample space between you and the car in front of you.
Anticipate lane shifts – merge when directed to do so.
Don't change lanes unnecessarily.
Don't speed in work zones; obey the posted speed limits.
Avoid using mobile phones while driving in work zones.
Be especially alert at night while driving in work zones.
Be patient!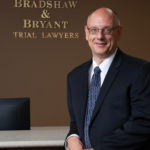 A founding partner with Bradshaw & Bryant, Mike Bryant has always fought to find justice for his clients—knowing that legal troubles, both personal injury and criminal, can be devastating for a family. Voted a Top 40 Personal Injury "Super Lawyer"  multiple years, Mr. Bryant has also been voted one of the Top 100 Minnesota  "Super Lawyers" four times.