It seems clear that some companies train adjusters to deal with unrepresented parties.  Those first adjuster are almost always reassigned when we take over a case.   But,  basically they are trained to deal with people that can be convinced to go it alone.   I would guess they are people that break into three groups:
The go it alone type:  this is a person that has decided that they can get the best results on their own.   That they have to know more about their own case than any lawyer and they will save the money the lawyer would get.   I have always felt if that person is happy with what they got,  who am I to tell them that they could get more?
The person who wants this to be a very unimportant thing:  They just want to get it over with and they don't want to think about the consequences if they have long term problems. Maybe they're afraid that getting a lawyer makes it a bigger deal?  So just finish it up and move on.  I hope those people do get better.
The desperate:  Those that just want to get their hands on the money.  They may deserve it or they may not think they do, but figure they will take what they can get.  These are probably the group that makes the trained adjusters feel like it is always a scam.
Odds are that if you had an experienced trial lawyer you will have a better worked-up case and get more money.  The companies that spend the resources to train special adjusters know this and make money off it.  Where do they make that money?  Off saving money from the unrepresented.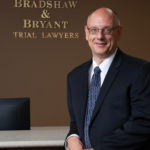 A founding partner with Bradshaw & Bryant, Mike Bryant has always fought to find justice for his clients—knowing that legal troubles, both personal injury and criminal, can be devastating for a family. Voted a Top 40 Personal Injury "Super Lawyer"  multiple years, Mr. Bryant has also been voted one of the Top 100 Minnesota  "Super Lawyers" four times.