If you're injured in a Minnesota crash, car insurance has to pay benefits for your lost income.  No-fault (also known as PIP) is insurance every car owner in Minnesota is required to carry. No-fault pays 85% of your lost income, up to $500 per week. Sometimes they have to pay more, if you purchased added coverage or 'stacking' of multiple car coverages.
Getting the benefits can be easy, especially if your loss is easy to figure out. An hourly or salaried employee seriously injured shouldn't have much trouble. The insurer will want proof of your wages (like a few pay stubs or a note from your employer) and a disability note from your physician.
There are some situations people miss out on:
If you only return to work part-time because of injuries, they have to pay 85% of the loss.
If you lose vacation or sick time going to the doctor, you must be paid wage loss benefits. Even if you miss just a couple hours or a half day, you are owed incomeloss.
Even if you were collecting unemployment benefits at the time of your injury, no-fault must pay, in this case 100% (instead of 85%) of your unemployment benefits, also capped at $500.
If you were about to start a job and had a definite offer of employment and a good employment history, they owe benefits.
It can get more complicated if you are self-employed.  There are a few ways to get paid:
If you have to hire replacement workers to do your work.
If you can document loss of gross income.
If you can document loss of things like insurance benefits, disability coverage and pensions, vegetable garden produce.
Or loss of proceeds of a household business, such as crafts or daycare.
Even if you get disability payments from another source, like private or work disability policy, no-fault must pay the full benefit without deductions!
This is part 3 in a series on What You Need to Know after a Car Crash.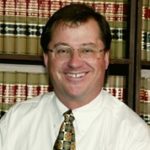 As a partner with Bradshaw & Bryant, Joe Crumley has over 30 years experience helping injured people and their families to secure just and fair compensation. Excelling in personal injury litigation, Mr. Crumley has secured numerous record-setting verdicts and settlements and won accolades such as MTLA's "Trial Lawyer of the Year" and "Excellence" Awards.