This the second installment in a series on why it's Smarter to Talk to a Lawyer. The first installment was the overview, and this second installment addressed that it's usually free to talk to a personal injury lawyer.
Sometimes people are afraid to call a lawyer (much less hire a lawyer) because they are afraid they will have to pay the lawyer up front. That's wrong.
First, it costs nothing to call most personal injury lawyers. Like most personal injury lawyers, we don't charge to take phone calls. Some lawyers have investigators or paralegals who screen all the incoming calls. It's hard to talk to a lawyer when you call those places.
We prefer to talk to people ourselves. We figure it's only a few minutes, and we have more experience and training than a paralegal will ever have, so we're less likely to make a mistake. Besides, we like talking to people.
Second, some personal injury lawyers will meet with you and give preliminary legal advice at no charge. Not all lawyers do this. Again, many send investigators out to meet with prospective clients. We prefer to meet with them personally. More importantly, we don't charge to meet with people to discuss a potential case.
Finally, we never charge our clients anything until there is a recovery. This means two things: No attorney fee until we make a recovery. That's true of most personal injury lawyers. But if there is no recovery, we don't charge for our costs or expenses. Some lawyers, if there is no recovery, will send you a bill for all the money they spent on your case.
Not us. We figure that's our risk. Our retainer we use on almost every personal injury and wrongful death case promises we will never charge you anything out of pocket.
My partner, Mike Bryant, explains it like this. It's like gong to a shoe store and trying out some shoes. You find a pair you like, and you take them home. You walk around on them every day, and you like them so much, you wear them all the time.
After year or so, you go back to the shoe store and go to the cash register. You finally pay for your shoes, after getting your money's worth out of them.
Hiring a lawyer will help protect your rights. And you can get your legal advice and it costs nothing until you decide to settle. That's why it's Smarter to Talk to a Lawyer.
The next installment in the series explains why you shouldn't wait to talk to a lawyer.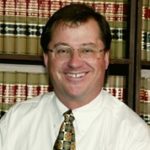 As a partner with Bradshaw & Bryant, Joe Crumley has over 20 years experience with the firm—helping injured people and their families to secure just and fair compensation. Excelling in personal injury litigation, Mr. Crumley has secured numerous record-setting verdicts and settlements and won accolades such as MTLA's "Trial Lawyer of the Year" and "Excellence" Awards.