Sometimes people call us about an accident, but then seem reluctant to meet with us or open a file. People have many reasons why they are reluctant to hire a lawyer. Some of these reasons make sense on the surface, but on deeper inspection they can end up costing the injured person or their family. Here are some I've heard:
I'm afraid I will have to pay the lawyer.
I should wait a few months.

Maybe I waited too long.
The Do-It-Yourselfer. This is the guy who's afraid to pay anybody to do anything.
Why Should I Pay a fee when I already have an offer? Mike Bryant addressed this in March.
The insurance adjuster says I don't need a lawyer.
I would never start a lawsuit.
I will answer each of these points in future articles. For now, I'll just point out:
I think everyone with an injury claim needs to at least talk to a lawyer to learn their rights.
It costs nothing to talk to most personal injury lawyers. Hiring a lawyer will help protect your rights.
Waiting too long can result in important evidence being lost or destroyed. One of our main jobs is to collect and preserve evidence.
Insurers and large companies can and will take advantage of someone without a lawyer. The insurer is not your lawyer.
It is illegal for an insurer to tell you that you don't need a lawyer.
Retaining a lawyer is not the same as suing someone. The vast majority of the time, I can convince the insurance company to make a cash offer before a lawsuit.
There is a statute of limitations on your claim. If you wait too long, your claim could be forever lost.
You can lose valuable rights and benefits if you accept certain payments or sign the wrong paper, no matter what the insurer tells you. As my partner Mike Bryant always says, "Don't Sign Anything Until you Talk to a Lawyer"
This the first article in a series on "Why it's Smarter to Talk to a Lawyer." The second installment explains that it's usually free to talk to a personal injury lawyer. The third installment addresses why you shouldn't wait to talk to a lawyer.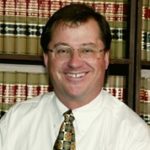 As a partner with Bradshaw & Bryant, Joe Crumley has over 20 years experience with the firm—helping injured people and their families to secure just and fair compensation. Excelling in personal injury litigation, Mr. Crumley has secured numerous record-setting verdicts and settlements and won accolades such as MTLA's "Trial Lawyer of the Year" and "Excellence" Awards.