There was a collision between two semi's this week on I-94 near St Joe. By the time it was over there were five other semi's and a dozen other vehicles involved. The St Cloud Times described it as:
….a semi was in the eastbound right lane and traveling about 30 miles per hour when the driver began having difficulty with the windshield wipers. Another semi came up behind, traveling at about 60 mph. The second driver tried to brake after seeing the first semi emerge through the snow, but the slick roadway resulted in a jackknife and a rear-end collision.

"After that, it was just crash after crash after crash," According to State Patrol Lt. Tom Schmitz "There was a multitude of them."
The St. Joseph crash is interesting primarily because you have a clear cause that started it all. You also have issues of weather conditions and speed. There will be questions of lookout and control by all the drivers.
With such a large number of vehicles involved, the police reports may not even mention the two trucks that started it all. It's even possible that folks toward the back may not even realize what caused the whole thing.
Early investigation and evidence recovery will be very important. If the insurance companies get there early, they will find helpful witnesses and point out what is important to them at the scene. We've seen cases when they were there as fast as the police. Some potential defendants are actually advised to call the company first, before calling the police. Imagine if an injured party called a lawyer first or if a lawyer showed up at the scene before the police?
The reality is that many potential claims will be based on who shows up and investigates the case the best. Who documents the potential witnesses and who considers all of the potential coverages.
An experienced Personal Injury lawyer should be able to help any of the parties involved, figure out all of the coverages available. If you or a family member is involved make sure you talk to someone before you sign away rights you have or if you are told that you can't make a claim.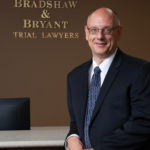 A founding partner with Bradshaw & Bryant, Mike Bryant has always fought to find justice for his clients—knowing that legal troubles, both personal injury and criminal, can be devastating for a family. Voted a Top 40 Personal Injury "Super Lawyer"  multiple years, Mr. Bryant has also been voted one of the Top 100 Minnesota  "Super Lawyers" four times.