Start with last weeks snow as a base, add at least 3 more inches coming down, and mix them with the end of the day in the Twin Cities: What do you have? It's a combination that meant for a very long and very slow rush hour today.
-Interstate 94 eastbound has closed near St. Joseph because of reports of several jack-knifed semis, according to the Minnesota Department of Transportation.
– St Paul still hasn't gotten to all of their streets since last week.
– All main routes out of St. Paul and Minneapolis appeared congested, with poor visibility, according to traffic reports from the Minnesota Department of Transportation.
Winter road tips from DPS and MnDOT include:
Always use seat belts.
Accelerate and decelerate slowly on icy/snow-covered roads to retain traction and avoid skids.
Do not use cruise control.
Do not "power up" hills, which may cause wheels to spin. Build momentum before reaching a hill and don't stop while traveling uphill. Reduce speed before going downhill.
Know your brakes. Keep the heel of your foot on the floor and use the ball of the foot to apply firm, steady pressure on the brake pedal.
Give yourself plenty of travel time. Don't put your schedule before safety.
Clear snow and ice from vehicle windows, hood, headlights, brake lights and directional signals.
Headlights must be turned on when it is snowing or sleeting.
Most police officers asked say the key is usually to Just Slow Down.
If you are in an accident, make sure to get the names of anyone who indicates they saw what happened. If you witness an accident, check to see if everyone is OK and stay around or at least give the drivers your contact information. If you are injured, seek the advice of an attorney who does that kind of work and who can explain your coverages and rights.
http://www.youtube.com/watch?v=MNin7QJEOZE&feature=player_embedded
Ontop of everything, there is talk that there are 2 to 4 inches on the way Thursday.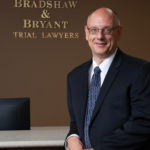 A founding partner with Bradshaw & Bryant, Mike Bryant has always fought to find justice for his clients—knowing that legal troubles, both personal injury and criminal, can be devastating for a family. Voted a Top 40 Personal Injury "Super Lawyer"  multiple years, Mr. Bryant has also been voted one of the Top 100 Minnesota  "Super Lawyers" four times.