Nine and a half years ago, on a gorgeous September morning, my partner Mike Bryant's phone call interrupted my morning coffee as he asked me, "So, is your roof on fire with an airplane crashed into it?" My confusion was obvious, and we were all still ignorant of the extent of what was happening.
The second plane hadn't hit, and I turned on CNN and saw it hit. As my wife Mary and I watched the replays of the second plane; as news commentators realized and said "Clearly not an accident… clearly a terrorist attack," she began to softly cry and asked me …. "I think we should put the flag out…" and we did.
Later that day and throughout that week, as Americans all put flags out in a scope that we hadn't seen in our lifetimes, on buildings and parks and bridge overpasses… we realized our lives had been forever changed.
It is a horror to celebrate ANY death or any assassination. His mother and brothers grieve him, or grieved his loss long ago.
No individual death can bring back those 3,000 dead, nor redeem them. But with this death, we can only hope that a chapter has ended, that a page has been turned.
Any death is a tragedy, but our flag is out tonight.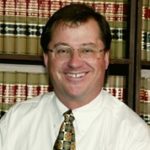 As a partner with Bradshaw & Bryant, Joe Crumley has over 20 years experience with the firm—helping injured people and their families to secure just and fair compensation. Excelling in personal injury litigation, Mr. Crumley has secured numerous record-setting verdicts and settlements and won accolades such as MTLA's "Trial Lawyer of the Year" and "Excellence" Awards.