After a bunch of people told me I should, I finally got around to watching Bull.  I like the show overall, and Michael Weatherly as Dr. Jason Bull is very entertaining.
But the show does not show how our jury system actually works. There are lots of differences between the show and real-life trial work:
Bull could absolutely never be able to talk to the jurors the way he does.  That would be tampering.
It is highly unlikely that Bull would ever be hired again after he turned the client in to the cops in the premiere.   He also can't deal with both sides the way he did in episode 5.
It is highly unlikely that a client would hire their own jury consultant.  If nothing else the lawyer would want to directly deal with the expert and would pay initially.
Except in really big cases, mirror jurors are far too expensive. They are rarely used.
Bugging the opposing lawyer, reading juror's emails, and shadowing jurors are all wrong and against the rules.  These things would most likely get the lawyer disbarred and the consultant barred from the courthouse.
Jurors aren't usually allowed to raise their hands or ask questions once the trial is started.  Although, some judges have allowed written questions, and it would be a great way to get rid of easy issues that jurors often question
The pro bono work he does, can happen, but usually in the criminal field it is done for the publicity of a high-profile case.
The tort reform in episode four is inaccurate and lazy writing.   It is easy to throw this stuff out there, but it is really unsupported by evidence.
The jurors talking during the trial is probably realistic, although they are instructed by the court to wait until the end of the trial to discuss all of the evidence.
I don't like the writing for crappy lawyers.  The story basically goes that Bull is so talented he takes a clod of a lawyer and just gives them magic words to win.
The defense lawyer was horrible for the medical malpractice defendant. Medical malpractice defense lawyers are much better than that, although they depicted the doctor well.
Now, I understand it's just a TV show.  But considering its ratings (and I will continue to watch it), I thought you'd like to hear from a trial lawyer how real it isn't.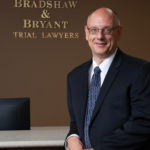 A founding partner with Bradshaw & Bryant, Mike Bryant has always fought to find justice for his clients—knowing that legal troubles, both personal injury and criminal, can be devastating for a family. Voted a Top 40 Personal Injury "Super Lawyer"  multiple years, Mr. Bryant has also been voted one of the Top 100 Minnesota  "Super Lawyers" four times.