Paul J. Rousseau, a student, was shot in the head while in a dorm room at the University of St. Thomas in St. Paul.  A Star Tribune story last week noted that:
[Rousseau]… was injured seriously enough to require surgery after a gun was accidentally discharged in another room, sending a bullet through a wall in Flynn Hall, the university said Saturday.

…Weapons are not allowed in St. Thomas residence halls, the school confirmed…
Information trickled out until yesterday, when the St. Paul Pioneer Press reported that:
The University of St. Thomas student who accidentally shot and wounded a roommate Friday had a permit to carry a gun and reported he was putting his handgun away when it discharged, according to police.

A bullet went through the 22-year-old student's bedroom wall at Flynn Hall, into another bedroom and then into a living room on the other side. It grazed the top of Paul J. Rousseau's head when he was in the living room of the dorm suite about 8:15 p.m. Friday, police said.
…
Police interviewed the student who fired the gun. He reported he took it out of his holster and went to put it in a lockbox, said Steve Linders, a St. Paul police spokesman.

The student said "he did not believe there was live ammunition in the chamber and he accidentally pressed the trigger while putting the gun away," according to Linders.
Earlier today, the Star Tribune reported that the student who fired the gun, who is from Hermantown, Minnesota,  is no longer allowed on school property.
Liability.  Certainly the Hermantown student, who has not been identified in news reports, is responsible for accidental or intentional discharge of his weapon.  In addition, it is likely he is still considered a permanent resident with his parents.  Although they would appear to have no responsibility, the student would still be covered by his parents' homeowners insurance coverage.  Accidental shootings are covered under most homeowners insurance.
It appears thus far that no one else was involved.  There are occasions when other parties negligently handing the gun may have fault.  The school could  have responsibility, if they were aware and ignored the gun, or showed lack of proper supervision of students.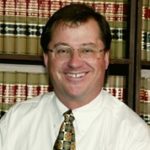 As a partner with Bradshaw & Bryant, Joe Crumley has over 30 years experience helping injured people and their families to secure just and fair compensation. Excelling in personal injury litigation, Mr. Crumley has secured numerous record-setting verdicts and settlements and won accolades such as MTLA's "Trial Lawyer of the Year" and "Excellence" Awards.