Farmers and ranchers who need to protect crops from invasive weeds have long chosen paraquat, a popular herbicide that has been prominent since it was introduced 60 years ago. Paraquat effectively treats weeds and plants resistant to other pesticides, and it's economical in contrast with different options. However, there is a significant tradeoff. It is highly toxic, and there is no known cure if it is ingested — one small sip is enough to kill. Along with being deadly, it has been linked to medical complications like Parkinson's disease in recent years. Switzerland, Brazil, China, and many European countries have banned paraquat sales. In the U.S., it is sold with restrictions but still widely available in the agricultural industry. 
Minnesota leads the country in agricultural production, with nearly 70,000 active farms and 25.5 million acres of farmland. It's a highly lucrative industry — the state sees $17 billion in agricultural sales every year and ranks sixth in the nation for farmland. Given the economic importance of farming, it is not surprising that Minnesota farmers use paraquat to treat their crops. But given the risks, it does raise some concerns.
In 2019, a coalition of advocacy groups asked the U.S. Environmental Protection Agency (EPA) to reverse its approval of paraquat. The letter included support from Pollinate Minnesota, and it outlined some of the growing concerns surrounding the herbicide. One excerpt: "We urge the EPA to ban this chemical. Farmworkers, farmers, children, and our natural places should not be left behind when crucial public health and environmental protections have been granted almost everywhere else in the world." The EPA did not heed the request. 
Paraquat dichloride is manufactured by Switzerland-based Syngenta and most commonly sold under the brand name Gramoxone. You won't find it on the shelves of your local garden store, and it is not designed for someone's lawn. Because of its toxicity, it is considered a restricted-use pesticide by the EPA. To comply with state and federal laws, only certified pesticide applicators who have received training can use it. Farms must take precautions before putting paraquat to use, and the average person will likely never interact with paraquat. But for those who inhale or ingest the product, the effects can be devastating.
Paraquat Risks
Parkinson's disease is an incurable disorder that affects the central nervous system. It's a progressive condition that affects movement and can lead to loss of balance. Because of its degenerative nature, patients are sometimes left bedridden or using a wheelchair. Most Parkinson's sufferers will only live between 10 and 20 years after diagnosis, and research has linked paraquat to an increased chance of Parkinson's. One study found that people who used the herbicide were 2.5 times more likely to develop Parkinson's disease when compared to the general population. The Michael J. Fox Foundation, one of the world's most prominent Parkinson's organizations, has long pushed for a ban on the herbicide. In 2019, the nonprofit presented the EPA with over 100,000 signatures from people who want to end paraquat sales. 
Aside from the risk of Parkinson's, some countries have banned it because of its unfortunate effectiveness in suicide attempts. Research has found that between 60 and 70% of people who intentionally drink paraquat will die, and it's a common choice because of the high toxicity of the herbicide. In the U.S., paraquat suicide attempts are less common due to purchasing restrictions. But in other countries, pesticides and herbicides account for a large portion of suicide deaths. 
Paraquat is also dangerous because people have died from taking a sip after confusing it with another beverage. In the U.S., it is dyed blue and has a strong smell so that it can't be confused with a beverage like soda or juice. It also has an added vomiting agent in case someone drinks it. Even with these safeguards, accidental ingestion still occurs. Most of the people who experience consequences from paraquat don't ingest the weed killer. Instead, they're exposed to it long-term while doing farmwork. Even when paraquat is used as designed, it has detrimental health effects.    
People around the country diagnosed with Parkinson's disease after exposure to paraquat-based herbicides have pursued legal action after realizing the connection, alleging that Syngenta and other manufacturers didn't do enough to make sure exposure to the herbicide wasn't harmful to humans. While these lawsuits work their way through the court system, the health of agricultural workers is still at risk.
If you feel you have suffered an injury due to a paraquat exposure, the team at Bradshaw & Bryant can help you determine possible legal options. Call us at 800-770-7008 or contact us online for a free consultation with a personal injury attorney in Minneapolis.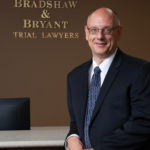 A founding partner with Bradshaw & Bryant, Mike Bryant has always fought to find justice for his clients—knowing that legal troubles, both personal injury and criminal, can be devastating for a family. Voted a Top 40 Personal Injury "Super Lawyer"  multiple years, Mr. Bryant has also been voted one of the Top 100 Minnesota  "Super Lawyers" four times.