So the law changed August 1.  Marijuana became legal for recreational use. People will be allowed to have 2 pounds in their house,  grow four plants,  and use it in many new places.   Licensed dealers will be allowed to sell it.  So you most likely will be smelling it everywhere you go.
BUT IT IS STILL ILLEGAL FEDERALLY !
IT IS STILL ILLEGAL IN NEIGHBORING STATES !
What does that mean ?   That you can't cross boarders with it,  can't mail it places. you can't  use your handgun conceal and carry if you possess it (remember that federal form your signed?) ,  and it is  illegal to bring seeds in to grow from outside the state.  Dealers can be charged if they are licensed.   We may even see people being charged federally for its use.
So be smart and be responsible.   "But, it's legal"  isn't a defense against everything.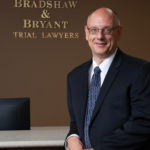 A founding partner with Bradshaw & Bryant, Mike Bryant has always fought to find justice for his clients—knowing that legal troubles, both personal injury and criminal, can be devastating for a family. Voted a Top 40 Personal Injury "Super Lawyer"  multiple years, Mr. Bryant has also been voted one of the Top 100 Minnesota  "Super Lawyers" four times.