Impaired motorists are responsible for nearly 30 traffic fatalities around the country every single day. While nothing can undo these tragic events, it may be possible for surviving family members to restore their financial stability by bringing a wrongful death claim against the liable driver.
Read on to learn the answers to some of the most frequently asked questions about wrongful death claims involving drunk driving accidents:
1. How Do You Prove Fault for a Drunk Driving Accident?
To win a settlement or verdict following a drunk driving accident, plaintiffs must prove liability, causation, and damages. Proving liability essentially requires you to demonstrate how the defendant was legally responsible for the crash. Evidence of liability may include chemical test results, arrest records, the accident report, surveillance and dashcam footage, and eyewitness deposition.
In some cases, the defense will assert that the plaintiff's own negligence was a contributing factor. This might happen, for example, if you were speeding or breaking another traffic law at the time of the accident. The evidence needed to counter such a defense will likely be the same evidence used to prove the defendant was liable for the crash. At the end of the day, strong evidence is the key to winning any accident claim, so it is important that you hire an attorney who knows how to conduct a thorough investigation and bring together the relevant facts and evidence to present a compelling case.
2. What Kinds of Damages Might Be Recoverable in Minnesota Wrongful Death Claims?
A wrongful death can result in exorbitant financial costs as well as non-economic damages like loss of protection, care, and guidance. In the state of Minnesota, the following damages may be recoverable after a wrongful death:
• Burial and funeral costs;
• Healthcare bills the deceased incurred between the accident and death;
• Loss of benefits, anticipated inheritances, and income;
• Loss of guidance, comfort, and companionship;
• Loss of care, protection, services, and assistance;
• Mental anguish, sorrow, and loss of solace.
3. Do Drunk Driving Accidents Warrant Punitive Damages?
Under Minnesota law, punitive damages only apply if the defendant's conduct demonstrated a deliberate disregard for the rights or safety of others, or an intentional disregard or knowledge that their misconduct had a high chance of causing injury. Since every licensed motorist is expected to know the dangers of drunk driving, it may be possible to obtain punitive damages after a DWI accident—especially if the defendant had prior drunk driving convictions or an especially high BAC.
If your family wants to pursue punitive damages in addition to compensatory damages, you will have to file a separate claim. After submitting your wrongful death complaint, an attorney can help you make a motion to amend the pleadings.
This motion will explain how the defendant's actions warrant a punitive award. Unlike other states, Minnesota does not cap punitive damages; however, the claim must be reasonable and in line with the total losses incurred as a direct result of the defendant's conduct.
Discuss Your Case with a Wrongful Death Attorney in Minneapolis
If your loved one died at the hands of a drunk driver, contact Bradshaw & Bryant. Call 800-770-7008 or use our Online Contact Form to set up a free consultation with a wrongful death lawyer in Minneapolis.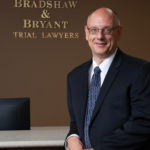 A founding partner with Bradshaw & Bryant, Mike Bryant has always fought to find justice for his clients—knowing that legal troubles, both personal injury and criminal, can be devastating for a family. Voted a Top 40 Personal Injury "Super Lawyer"  multiple years, Mr. Bryant has also been voted one of the Top 100 Minnesota  "Super Lawyers" four times.