No one plans on getting seriously hurt when they go out to eat. Restaurants are rife with risk, though, and when workers fail to address hazards in a timely manner, it's often the patrons who end injured.
Thankfully, those who get hurt at dining establishments are usually entitled to compensation. If you're recovering from injuries you sustained at a restaurant, here's what you should know about filing a damages claim:
1. How Do You Prove the Restaurant Is Liable for Your Injuries?
When putting together your claim, the most valuable evidence will ultimately depend on the circumstances surrounding the accident in which you were hurt. In most cases, though, injured parties need to gather at least a few of the following:
• Statements from eyewitnesses,
• Surveillance footage,
• The incident report,
• Photographs of the scene, and
• The establishment's standard operating procedures.
2. What Kinds of Damages Can You Seek by Filing a Restaurant Injury Claim?
In Minnesota, injured parties can seek compensation for both their monetary and non-monetary losses. Such damages might include:
• Medical bills,
• Pain and suffering,
• Lost wages,
• Loss of enjoyment in life,
• Loss of future earnings,
• Replacement services, and
• Mental anguish.
The spouses of injured parties are often entitled to compensation, as well. By filing a loss of consortium claim, they can seek funds to make up for the loss of love, companionship, support, and services they incur as a result of their husband or wife's condition.
3. How Long Do You Have to Take Action Against a Restaurant?
Every state has strict filing deadlines when it comes to civil suits, and Minnesota is no exception. The usual statute of limitations for personal injury actions founded on negligence is six years.
There are a few scenarios, however, that can shorten this deadline considerably, so it's wise to seek legal counsel as soon as possible. What's more, certain pieces of evidence may only be available for a matter of weeks. If the accident was captured by the establishment's surveillance system, for example, the footage may automatically be overwritten in less than a month. As such, it's imperative to commence the proceedings right away.
4. How Can You Strengthen Your Restaurant Injury Claim?
With so much at stake, you're probably wondering how to ensure your claim yields a payout. While there's no way to guarantee a successful outcome—legal proceedings are, after all, inherently unpredictable—there are steps you can take to give your action the best chance of being resolved in your favor. Such steps include:
• Seeking prompt medical care and then following your doctor's orders diligently,
• Staying off social media as long as your claim is pending,
• Refusing to give a recorded statement,
• Referring the opposing party to your legal team,
• Keeping a daily journal to track your non-economic damages, and
• Saving any documentation that corresponds to your injury-related expenses.
Call 800-770-7008 to Speak with a Restaurant Injury Attorney in Minneapolis
If you were seriously hurt while dining out and you think the establishment was ultimately to blame, turn to Bradshaw & Bryant. Our compassionate team will investigate the circumstances surrounding the accident and help you put together a strong claim. To set up a free case review with a restaurant injury lawyer in Minneapolis, call 800-770-7008 or complete our Contact Form.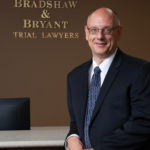 A founding partner with Bradshaw & Bryant, Mike Bryant has always fought to find justice for his clients—knowing that legal troubles, both personal injury and criminal, can be devastating for a family. Voted a Top 40 Personal Injury "Super Lawyer"  multiple years, Mr. Bryant has also been voted one of the Top 100 Minnesota  "Super Lawyers" four times.