While it's true that you assume a certain amount of risk when you go out on the water, it's also true that boaters have an obligation to operate their vessels with care. Unfortunately, as many water sport enthusiasts have learned the hard way, not all of them do.
If your last trip to the lake ended at the hospital, you may be wondering how you're going to make ends meet. Sustaining unanticipated injuries does not only affect your physical health and emotional wellbeing but also threatens your financial security. This is especially true if you're unable to work while recovering.
Thankfully, boating accident victims are usually entitled to compensation for their losses. In order to be eligible for a payout, though, you're going to have to prove both liability and damages.
Read on to learn about some of the most likely pieces of evidence that will help you do just that:
1. Video Footage
With social media as prevalent as it is, people are almost always recording their outings on the lake. If you captured the incident or the circumstances leading up to it on camera, preserve the footage in a safe place. It may contain valuable clues that ultimately help your legal team assign blame.
2. Photographs of the Wreckage
Accident reconstruction experts may be able to piece together what happened by evaluating photos of the vessels that were involved and the damage they sustained. Images of the area, including any docks, buoys, or bridges that contributed to the crash may also prove useful.
3. Formal Reports
In addition to reporting the accident to local authorities, you may have to inform the U.S. Coast Guard. Under federal law, boaters must file a report within 48 hours of their vessel being involved in an incident that results in:
• Death within 24 hours;
• Injuries that require more than just basic first aid; or
• The disappearance of someone in such a way that death or injury is likely.
Additionally, accidents that result in sinking, a fatality more than 24 hours later, or at least $2,000 worth of property damage must be reported within 10 days. While the contents of any such reports, once processed, won't replace the need to conduct a thorough investigation, they could help legitimize your claim, especially in the eyes of the insurance adjuster.
4. Toxicology Results
If alcohol impairment played a role in the accident, the results of any blood or breath tests conducted in the aftermath could prove integral to your claim. You should be able to obtain these reports from the law enforcement personnel who responded to the scene.
5. Maintenance Logs
When some kind of malfunction is responsible for an accident, the vessel's maintenance logs may help assign blame. In such scenarios, potentially liable parties include the owner/operator, the manufacturer, and the mechanic.
Discuss Your Case with a Boating Accident Lawyer in Minneapolis
If you or someone you love was hurt on the water because another party failed to act with reasonable care, turn to Bradshaw & Bryant for strategic legal counsel. For six years straight, attorney Michael Bryant has been named a SuperLawyer and has been recognized by Minnesota Law & Politics as one of the state's Top 40 Personal Injury Lawyers. Call 800-770-7008 or use our Contact Form to set up a free, no obligation consultation with a boating accident attorney in Minneapolis.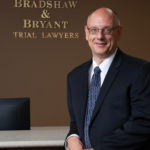 A founding partner with Bradshaw & Bryant, Mike Bryant has always fought to find justice for his clients—knowing that legal troubles, both personal injury and criminal, can be devastating for a family. Voted a Top 40 Personal Injury "Super Lawyer"  multiple years, Mr. Bryant has also been voted one of the Top 100 Minnesota  "Super Lawyers" four times.