Unintentional injuries are a leading cause of death in the United States. In fact, they're the number-one killer of people between ages 1 and 44 in the United States, according to the Centers for Disease Control and Prevention.
Although some fatal accidents are entirely unavoidable, most can be traced to negligence or recklessness. Losing a loved one in a preventable incident due to someone else's carelessness is utterly devastating. It's only natural for surviving family members to demand justice.
If the accident was criminal in nature, justice might be seeing the liable party behind bars. Even if the at-fault party's actions do not warrant jail time, though, the deceased's loved ones may still have grounds for a wrongful death claim.
Most people who want to file a wrongful death claim have never needed a personal injury lawyer before, so they may not know what qualities to look for in legal counsel. If you want to hire a wrongful death attorney in Minneapolis, try to find a lawyer with the following characteristics:
Applicable Experience 
Look for a law firm that not only resolves wrongful death claims but also has experience handling cases like yours. For example, if your loved one died in a drunk driving accident, you need someone who is familiar with fatal collisions. If he or she was the victim of medical malpractice, on the other hand, the claim is going to call for a different strategy entirely. 
Relevant Resources 
By hiring the right attorney, you will gain access to a vast network of legal resources such as expert witnesses, accident reconstruction professionals, and economists. This is one of the major advantages of working with a wrongful death lawyer as opposed to representing yourself.   
Compassion & Empathy 
Those who are grieving the unanticipated loss of a loved one are incredibly vulnerable. They should not have to worry about someone taking advantage of their position, nor should they have to deal with detached attorneys who care more about churning out settlements than protecting each client's best interests.  
A Good Reputation 
If you've ever researched a company or product online, you probably already know that a handful of negative reviews is not necessarily cause for alarm. When looking up law firms, though, most of the reviews should be positive, and the firm should have a good reputation in the community. Look for a practice that has a track record of success and a history of satisfied clients. 
Trial Experience 
Most wrongful death claims are settled out of court; however, in the event that your case goes to trial, you'll want a seasoned legal ally with the litigation experience to represent your interests. 
Call 800-770-7008 to Speak with a Wrongful Death Lawyer in Minneapolis 
If you lost a loved one in a preventable accident and want to sue all liable parties for the resulting damages, turn to a personal injury attorney at Bradshaw & Bryant. As soon as you walk through the door, we will talk with you honestly about your case and start planning a strategy to help your family pursue the maximum compensation. Call 320-259-5414 or fill out our Contact Form to schedule a free case evaluation with a wrongful death lawyer in Minneapolis.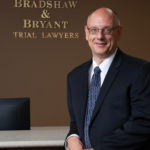 A founding partner with Bradshaw & Bryant, Mike Bryant has always fought to find justice for his clients—knowing that legal troubles, both personal injury and criminal, can be devastating for a family. Voted a Top 40 Personal Injury "Super Lawyer"  multiple years, Mr. Bryant has also been voted one of the Top 100 Minnesota  "Super Lawyers" four times.