Six Minnesota Air Force Reservists were injured when their bus rolled over after being rear-ended by a semi between Albertville and Monticello, Minnesota. The state patrol reported the injuries did not appear life-threatening, but at least one soldier was airlifted from the scene, according to a Star Tribune report.
Expensive air ambulances are typically only called for the most serious of injuries, where it would be risky to wait for an ambulance.  The nearest hospital would be Monticello Hospital, a CentraCare facility, but an air ambulance would probably be headed for a Twin Cities high level Trauma Center, such as North Memorial or Hennepin County.
The picture shows the semi veered off after impact into the ditch and the bus lay on it side near or in the center median.  Let's hope there were minimum serious injuries. It's certainly painful when our American heroes who joined to serve their country get injured at home or overseas.
My youngest brother spent about ten years in the Air National Guard (after law school he joined the U.S. Army JAG corps, where he is no active). Our father, Bob Crumley, fought six years in WWII in the U.S. Army Air Corps, the predecessor to the U.S. Air Force and the Air Force Reserve.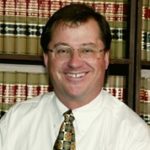 As a partner with Bradshaw & Bryant, Joe Crumley has over 30 years experience helping injured people and their families to secure just and fair compensation. Excelling in personal injury litigation, Mr. Crumley has secured numerous record-setting verdicts and settlements and won accolades such as MTLA's "Trial Lawyer of the Year" and "Excellence" Awards.