June 6 is a memorable date. Military historians remember it as the turning point in World War II, when the largest armada in the history of war crossed the English Channel and turned the tide of the war, June 6, 1944: D-Day.
But fifty years ago, June 6, 1968, almost to the minute as I write this, Robert Francis Kennedy died of the two bullets shot by a Palestinian man named Sirhan Sirhan the previous day.
Bobby Kennedy, only 42 years old, had gone from his brother's campaign manager, to U.S. Attorney General, and then with the rest of the nation into mourning, through the early 1960s. After his brother, President John F. Kennedy, was assassinated November 22, 1963, Bobby changed his focus, first to the Senate, like Hillary Clinton elected from New York. Eventually he would challenge his brother's vice president and successor, President Lyndon B. Johnson over the Vietnam war, and help force him from the presidency.
Bobby had blossomed between his brother's death and 1968 into a strong voice for Civil Rights and anti-war sentiment. In the Spring of 1968, his calming words to crowds of African Americans kept Indianapolis from the riots that followed almost every other city the day Dr. Martin Luther King, Jr., was assassinated.
Despite his youth and lack of experience, he helped forced President Johnson to quit the election, and Kennedy won many primaries.  He was perhaps on the verge of winning the Democratic presidential nomination to be held in Chicago.
But it all ended for Kennedy in Los Angeles, shot June 5 after his final speech, and his famous words, "My thanks to all of you; and now it's on to Chicago, and let's win there!" He walked through the kitchen of the Los Angeles Ambassador Hotel, paused to shake hands with busboy Juan Romero, and was shot by Sirhan Sirhan's .22 caliber handgun.
Fifty years ago, after Romero comforted the dying Senator, placing a Rosary in his hands, the hopes and dreams of a generation fighting for Civil Rights and against war, died. And then, we got Nixon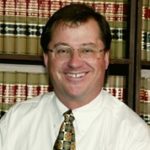 As a partner with Bradshaw & Bryant, Joe Crumley has over 30 years experience helping injured people and their families to secure just and fair compensation. Excelling in personal injury litigation, Mr. Crumley has secured numerous record-setting verdicts and settlements and won accolades such as MTLA's "Trial Lawyer of the Year" and "Excellence" Awards.