Since vehicles can do far more damage to pedestrians than pedestrians can do to vehicles, motorists must be prepared to stop for those on foot. This duty of care applies when turning at intersections, passing playgrounds and residential areas, driving through school zones, and traveling anywhere else pedestrians are likely to be.
But what if someone is walking on a bridge where pedestrians are prohibited, or trying to cross I-35 on foot? Since motorists do not anticipate seeing pedestrians in such scenarios, they are less likely to notice them, and devastating accidents can result.
When such a collision does occur, liability is often unclear. The driver might have been the one who actually struck the person on foot, but did he or she owe a duty of care to the victim given the circumstances?
Why Duty of Care Matters 
Determining fault in any car accident claim comes down to negligence, which is a breach of the duty of care that one party owes another. In traffic, this duty of care is implied.
For example, all motorists must follow the rules of the road for the sake of those around them. If they breach this duty by driving while impaired, speeding, or running red lights, they will be responsible for any resulting collisions.
Pedestrians also have a duty of care to follow the rules of the road. Those on foot must obey all traffic signals, use crosswalks, and exercise caution when visibility is limited for passing motorists. If a pedestrian ignores a "Don't Walk" signal or uses the shoulder when an adequate sidewalk is available, he or she could be liable for any accidents that result.
Can Both Parties Be Liable in a Pedestrian Accident? 
In 2016, 72 percent of all fatal pedestrian accidents occurred in non-intersection travel lanes, 18 percent happened at intersections, and 10 percent occurred in non-travel lanes like shoulders and driveways, according to the Governors Highway Safety Association. These statistics highlight the fact that pedestrian accidents can happen virtually anywhere and for virtually any reason.
In some cases, the motorist might be wholly at fault while in other scenarios, the pedestrian may be to blame. There are also situations in which both parties can be partially liable.
For example, if a pedestrian is jaywalking in a residential area where the speed limit is 25 mph when a motorist traveling 45 mph strikes him or her, both individuals would likely be at fault. If each was deemed 50 percent responsible, both could benefit from hiring personal injury lawyers to pursue compensation for their damages.
Call 800-770-7008 to Speak with a Car Accident Attorney in Minneapolis 
If you were hurt in a pedestrian accident but liability is unclear, contact Bradshaw & Bryant. Our personal injury attorneys will evaluate the circumstances of the incident to determine if you have grounds for a claim. Call 320-259-5414 or fill out our Contact Form to schedule a free case evaluation with a car accident lawyer in Minneapolis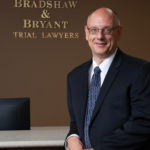 A founding partner with Bradshaw & Bryant, Mike Bryant has always fought to find justice for his clients—knowing that legal troubles, both personal injury and criminal, can be devastating for a family. Voted a Top 40 Personal Injury "Super Lawyer"  multiple years, Mr. Bryant has also been voted one of the Top 100 Minnesota  "Super Lawyers" four times.