A recent news story reminded me of all the people I had helped who had collided with animals in the road.
Nineteen-year-old Joshua Pettey was driving with his mother and girlfriend near Red Wing Sunday when the cow stepped onto a road.

"…[A]ll of sudden the brakes slam and I hear screams, the windshield smashes and boom, we are in a ditch," Danielle David, Pettey's mother, said of the head on crash with the cow early Sunday evening.

David said the 1,500-pound cow smashed through the windshield, hitting her son, Josh, head on.
The photo (see link) was similar to many I had seen in my 23 years of representing injured people and the families of folks killed in such crashes. Running into (and usually under) a 1,000 to 2,000 pound animal tends to make an instant convertible out of a sedan.
I have seen horse collisions that caused serious head injuries, including permanent blindness of a medical student. I have seen rodeo bulls left behind that killed and maimed three people in one car. I have seen so many cow in the road cases, that I wonder if the farmers of Minnesota understand their responsibilty to keep their animals fenced.
Who is responsible? What can be done? Many of the articles on this blog and our St. Cloud counterpart describe the automobile insurance benefits available to such folks. I wrote a detailed article of Legal Advice after an Automobile Death that covers much of what I advise my clients and other lawyers when the injuries are so severe that people die.
I have handled too many such cases throughout Minnesota. In each of these cases, the owners of the animals or their insurance companies paid settlements to the victims or their loved ones.
Obviously, we hope that people avoid such 'accidents' and that animal owners keep them off the road.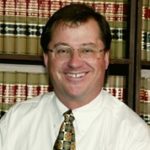 As a partner with Bradshaw & Bryant, Joe Crumley has over 30 years experience helping injured people and their families to secure just and fair compensation. Excelling in personal injury litigation, Mr. Crumley has secured numerous record-setting verdicts and settlements and won accolades such as MTLA's "Trial Lawyer of the Year" and "Excellence" Awards.