This month, we will be looking at the issue of talking to the adjuster. It is not unusual for insurance companies to have specific adjusters who are hired to speak with unrepresented people. Clearly, this is being done to save the company money and minimize their liability.
Giving the adjuster a statement can be dangerous because they ask a number of questions purely to minimize their liability. They successfully accomplish this by having a conversation and gaining the person's trust through light banter. Then, a strategic set of questions are used in order to create fault often where there is none. Being asked questions regarding speed, lookout and opportunity may seem innocent, but when skillfully asked and vaguely answered, they have accomplished their goal of changing the overall nature concerning follow up in the case.
If you, your family or someone you know is in an accident, it is worth taking the time to sit down and talk to an experienced law firm with success in helping people that are injured through no fault of their own. The consultations are free and it allows you to figure out what rights you have after an injury.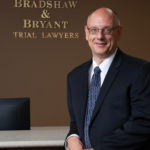 A founding partner with Bradshaw & Bryant, Mike Bryant has always fought to find justice for his clients—knowing that legal troubles, both personal injury and criminal, can be devastating for a family. Voted a Top 40 Personal Injury "Super Lawyer"  multiple years, Mr. Bryant has also been voted one of the Top 100 Minnesota  "Super Lawyers" four times.