This month, we will be looking at the issue of talking to the adjuster. It is not unusual for insurance companies to have specific adjusters who are hired to speak with unrepresented people. Clearly, this is being done to save the company money and minimize their liability.
Is the adjuster talking down your case? Is the adjuster pointing out reasons why you are at fault? Reasons why you will not be able to recover under Minnesota law? Reasons why you cannot claim your injuries are due to the accident? All of these are examples of the adjuster practicing law. They are giving you legal opinions about how the facts apply to the law. They are not lawyers and most importantly they do not represent you.
Actually, it is this kind of treatment that often leads people to come into our office.
If you, your family or someone you know is in an accident, it is worth taking the time to sit down and talk to an experienced law firm with success in helping people that are injured through no fault of their own. The consultations are free and it allows you to figure out what rights you have after an injury.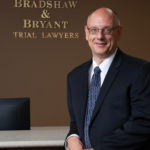 A founding partner with Bradshaw & Bryant, Mike Bryant has always fought to find justice for his clients—knowing that legal troubles, both personal injury and criminal, can be devastating for a family. Voted a Top 40 Personal Injury "Super Lawyer"  multiple years, Mr. Bryant has also been voted one of the Top 100 Minnesota  "Super Lawyers" four times.