Six debt collection firms have come under fire by Minnesota regulators for a handful of problems which include employing felons, harassing consumers and stealing their financial information.
"The firms employed "dozens and dozens" of felons who gained access to financially strapped consumers' credit card numbers, bank accounts and other financial information," said Commerce Commissioner Mike Rothman.
In short, debt collection firms are barred from hiring criminals but they are required to conduct background checks that are submitted to regulators. Despite a Minnesota law, rapists, thieves and other offenders are often cleared to work as collectors because they lie and get away with it when the agencies fail to do required background checks. The result is felons having access to financial data.
Debt collectors' pattern of hiring criminals was first exposed last year by The Star Tribune in their investigative series, "Hounded," which reported that 743 criminal offenders in Minnesota had been registered as debt collectors dating back as far as 2005. In January companies were warned that they faced enforcement for failure to conduct background checks.
Allied Interstate LLC, one of Minnesota's largest debt collection firms, has recently been singled out by The Minnesota Department of Commerce (DoC), for hiring several convicted felons as debt collectors. The investigation by Star Tribune found that 81 collectors registered at the company from 2005 through 2010 had convictions of felony or gross misdemeanor.
Last year, Allied Interstate paid $1.75 million to settle a Federal Trade Commission complaint tied to collecting debts that were not owed.
Nearly all of the agencies named were charged with "failing to establish adequate screening procedures when hiring collector applicants." Most were also charged with hiring applicants that had a criminal background. The charges also include failure to report dismissals for violations of debt collection regulations.
In all, the DoC levied $930,000 in civil penalties against the firms, of which $250,000 was stayed and $10,000 is in dispute. Seven of the eight agreed to the penalties and to amend certain business practices, while one is fighting the charges.
Take a moment to read "Hounded," if you haven't already. It's disturbing at best.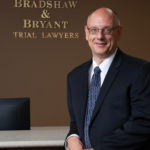 A founding partner with Bradshaw & Bryant, Mike Bryant has always fought to find justice for his clients—knowing that legal troubles, both personal injury and criminal, can be devastating for a family. Voted a Top 40 Personal Injury "Super Lawyer"  multiple years, Mr. Bryant has also been voted one of the Top 100 Minnesota  "Super Lawyers" four times.