The first snow often brings with it numerous car accidents around the state. It is important to know how to safely navigate snowy/ice road conditions for your safety as well as other drivers on the road.
Surely most of us would prefer to stay in with a good book or a favorite movie during bad weather, but that isn't always a realistic option. But do try and limit venturing out to things that can wait. If you can rearrange your schedule and appointments or run the errand another day, do so.
Winter Driving Safety Tips
Scrape snow from all windows on the vehicle. Also make sure the bottom of your shoe/boot is clean upon getting into the car. A slippery sole and a brake pedal can be a recipe for disaster.
Have the antifreeze, heater/defrost, belts, hoses, battery, brakes, filters and oil checked regularly.
Always wear a seatbelt, whether it's raining, snowing or sunny out.
Keep both hands on the wheel at all times.
The radio should be turned down and your cell phone not in use so that you limit dangerous distractions while driving in undesirable weather.
Allow extra drive time so you aren't in a rush to get to your destination. You can't control other drivers, but you can take steps to ensure your safety while traveling.
When approaching a patch of ice, brake slowly. Too much pressure applied to your brakes, while on ice, can throw your vehicle into a skid.
Low-beam lights increase visibility for you and for other drivers.
Low gears keep traction, especially on hills.
Gain speed and momentum going up a hill. Don't stop in the process.
Cruise control and overdrive should NOT be used.
The right-hand lane is the safest, unless passing. Be sure to use turn signals when necessary.
Avoid passing snow plows; the driver has limited visibility and may not be able to see you.
If snow and ice is a certainty of the area in which you live, use dedicated snow tires.
Trust your instincts, if the road appears slick, it likely is. This is true with one of winter's most dangerous hazards: "black ice" which is defined as ice that remains on roadways that are not in the path of direct sunlight.
Adjust speed to current weather conditions. Don't stop if you can avoid it. There's a big difference in the amount of inertia it takes to start moving from a full stop versus how much it takes to get moving while still rolling.
Don't count on technology to replace good, sound judgment. In other words, don't over estimate the capability of a four wheel drive and remember anti-lock brakes can't perform miracles. Slow speed and common sense is your friend.
Should an emergency situation arise and you become stopped or stranded – run the engine briefly – not continuously – to run the heater.
Emergency Necessities
Blankets, snacks, a flashlight, charged cell phone (and contact list), shovel, ice scraper, tow rope and a change of clothing.
This is not meant to be an exhaustive list of winter driving safety tips, but it's a good start and mentions some of the most important safety tips to remember. For more information, read The Official Click and Clack Winter Driving Rules.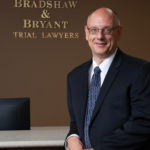 A founding partner with Bradshaw & Bryant, Mike Bryant has always fought to find justice for his clients—knowing that legal troubles, both personal injury and criminal, can be devastating for a family. Voted a Top 40 Personal Injury "Super Lawyer"  multiple years, Mr. Bryant has also been voted one of the Top 100 Minnesota  "Super Lawyers" four times.