The Minnesota Supreme Court ruled this week concerning repressed memory in sexual abuse cases. As the Crookston Times reported:
The Minnesota Supreme Court on Wednesday tossed out a clergy abuse lawsuit by a man whose case rested on a repressed memory claim, siding with a lower court's ruling that repressed memory is an unproven theory.

James Keenan sued the Archdiocese of St. Paul-Minneapolis and the Diocese of Winona, claiming that as a teenager he was sexually abused four times in 1980 or 1981 by Thomas Adamson, a priest who has since been defrocked.

Keenan brought his claim in 2006, well outside the state's six-year statute of limitations, but argued that it should be allowed because he repressed memories of the abuse. A district court rejected that claim, but the state Court of Appeals revived it last year.

The Supreme Court on Wednesday sided with the district court, which found that studies claiming to have proven the existence of repressed memory "lacked foundational reliability."
This is a fight that Jeff Anderson and Associates have been fighting for a long time. A key point in the case was the disclosure of names of known abusers from the diocese. A lower court had suppressed this disclosure. The ruling by the Supreme Court stopped the case, so that ruling still stands.
This video needs to be seen as it tells the story of what should have been the testimony:
http://www.youtube.com/watch?feature=player_embedded&v=YURNurGleUE#!
The video discloses cover ups, transfers, and actions by the Church that, as they have so many times, protecting pedophiles over survivors.
As I have written in the past , statutes of limitations are important:
Why States Should Expand The Statute of Limitations in Child Sex Abuse Cases, Mike Bryant | January 09, 2012 9:21 AM
They needed to use the zero tolerance doctrine to shine light on what happened and to ensure that it would never happen again. They need to not move priests around and to quit putting them in situations that allow great access to kids. They needed to stop hiding.
Abuse of children and the continued silence by the offenders needs to be prevented. If you suffered, saw, or suspected such events, it is important to know that there is help out there.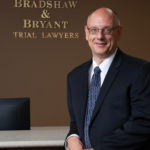 A founding partner with Bradshaw & Bryant, Mike Bryant has always fought to find justice for his clients—knowing that legal troubles, both personal injury and criminal, can be devastating for a family. Voted a Top 40 Personal Injury "Super Lawyer"  multiple years, Mr. Bryant has also been voted one of the Top 100 Minnesota  "Super Lawyers" four times.