If you were hurt because someone failed to act with reasonable care, it's natural to approach the claims process with apprehension. Not only is building a strong case a lot of work, but legal proceedings also happen to be rife with uncertainty.
As such, there are a lot of questions that personal injury attorneys cannot answer definitively. One of the most common questions that's impossible for them to address until they've evaluated the facts of the case pertains to the anticipated duration of the proceedings. These cases could last anywhere from a few months to well over a year.
When facing mounting medical bills, not to mention weeks or even months of unemployment, you have every reason to desire a prompt resolution. Since personal injury cases are inherently complicated, though, they don't always settle quickly, so it's important that you move forward with realistic expectations.
Let's take a look at some of the biggest factors that could influence the amount of time it takes to resolve your claim:
1. The Number of Parties You Name in the Claim
In many accident scenarios, it's not uncommon for multiple parties to share fault. Unfortunately for those who get hurt in such scenarios, taking action against multiple parties will add a layer of complexity to their case that can extend the duration of the proceedings.
If you include more than one defendant in your claim, the liable parties may keep shifting blame until they reach an impasse. Should this happen, filing a formal lawsuit may be the only way to pursue the compensation you deserve.
2. The Amount of Damages You Seek
If you're seeking a sizable settlement, the insurer will have more incentive to challenge your claim. After all, their primary goal is to protect their bottom line.
Depending on just how much is at stake, the carrier may resort to extreme measures to find reason to deny your claim. For example, they might monitor your social media activity for signs that you're exaggerating your condition. Or, they may analyze your medical records for evidence that you contributed to the severity of your injuries in some way. These efforts could lead to a dispute that draws out the proceedings.
3. The Severity of Your Condition
You won't be able to determine the full extent of the damages until you've reached maximum medical improvement (MMI). As such, the severity of your injuries could have a direct impact on the amount of time it takes to arrive at a settlement.
If you're so desperate for cash that you commence negotiations prior to reaching MMI, you could end up walking away with a payout that won't actually cover all your losses. If you find out later that you left money on the table, you won't be able to turn to the insurer for additional funds.
Speak with a Minneapolis Personal Injury Lawyer Today
If you were seriously hurt through no fault of your own, contact Bradshaw & Bryant to determine whether you have grounds for a personal injury claim. We combine the knowledge, resources, and experience of a large practice with the personal touch of a small firm. Call 800-770-7008 or fill out our Contact Form to schedule a free consultation with a personal injury attorney in Minneapolis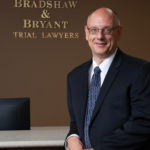 A founding partner with Bradshaw & Bryant, Mike Bryant has always fought to find justice for his clients—knowing that legal troubles, both personal injury and criminal, can be devastating for a family. Voted a Top 40 Personal Injury "Super Lawyer"  multiple years, Mr. Bryant has also been voted one of the Top 100 Minnesota  "Super Lawyers" four times.