Minnesota is one of 33 states that has a modified comparative fault law. Under this law, a personal injury plaintiff is barred from recovering from the defendant if the plaintiff was at least 51 percent liable for the accident in which they were hurt (50 percent in some states). Even if the plaintiff's liability is less than 51 percent, their financial recovery can still be reduced by their own percentage of fault.
For example, if you are found to have been 25 percent liable for an accident, you would only be entitled to compensation for up to 75 percent of the damages. That means if you incurred $60,000 in recoverable losses, you could only be able to obtain up to $45,000 from the liable party.
The comparative fault defense is commonly asserted by insurance companies because if they can assign a percentage of liability to you, that's less money they have to pay out. And if they can prove you were at least 51 percent liable, they might not have to pay any money at all.
If the comparative fault defense arises, your attorney will need strong evidence of liability to support your claim. In a truck accident case, examples of such evidence might include:
• Black box data;
• Toll booth receipts;
• Driver's logs;
• Weigh station records;
• Dash cam footage;
• Photographs of the scene;
• Toxicology reports;
• The official police report;
• The cargo loading company's standard operating procedures;
• The motor carrier's vehicle maintenance records; and
• Cell phone records.
It's important to remember, however, that even if the defendant was entirely liable for the crash, there are other reasons why your financial recovery might be reduced. For example, if you failed to mitigate the damages—i.e. if your own negligence caused your damages to increase—you might not be able to obtain compensation for 100 percent of your losses.
Seeking prompt medical care is a critical component of mitigating damages. If you postpone treatment, you could suffer complications that increase your medical bills, lost wages, and other damages.
It's also essential that you follow your doctor's orders. If you are instructed to take it easy by staying home from work, for example, going in for even a few hours at a time could end up hurting your case.
The following kinds of evidence can help you demonstrate a commitment to mitigating damages:
• Medical records;
• Pharmacy receipts;
• Personal injury journal entries;
• Documentation of missed work; and
• Receipts or invoices for replacement services like child care, housekeeping, and meal preparation.
To further reduce the likelihood of facing such a dispute, you should stay off social media and let your attorney handle all dialogue with the insurance adjuster.
Call 800-770-7008 for a Free Consultation with a Minneapolis Truck Accident Attorney
At Bradshaw & Bryant, we understand that a serious accident can impact the life of the victim and their family in a number of ways. If you were struck by a negligent trucker, let us handle the logistics of your case so you can focus on your health. Call 800-770-7008 or use our Online Contact Form to set up a free consultation with a truck accident lawyer in Minneapolis.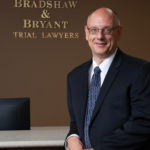 A founding partner with Bradshaw & Bryant, Mike Bryant has always fought to find justice for his clients—knowing that legal troubles, both personal injury and criminal, can be devastating for a family. Voted a Top 40 Personal Injury "Super Lawyer"  multiple years, Mr. Bryant has also been voted one of the Top 100 Minnesota  "Super Lawyers" four times.