If you are a motorcyclist in Minnesota you must review your insurance policy. In particular you need to review your UIM (Underinsured Motorist ) coverage.
UIM is the coverage you buy to protect yourself over and above the coverage of the at-fault party. For example, if you are injured by a car in Minnesota which carries the state minimum limits of $30,000 in liability. If your injuries, medical bills, and wage loss are beyond that coverage, you would turn to your UIM for additional protection.
In Minnesota, UIM is not a mandatory coverage on motorcycles . On cars it is. The difference is that for cars the UIM is always a add on coverage. You add your UIM amount to the coverage of the at fault driver. But, on a motorcycle that is not always the case.
There are some companies selling difference of the limits UIM coverage for motorcycles. That means you can only receive the amount of UIM coverage you purchased, after the amount that the other party pays is deducted. Using our example from above: the other party pays $30,000, you have $30,000 in UIM. You receive $0 in additional coverage. If you had $50,000, in UIM, you would really have $20,000. Therefore, you are not getting the coverage you paid the premium for. Make sure you check you policy before it becomes important.
So to be safe-
Check every one of your coverages.
Make sure you have UIM and No Fault .
Make sure you are getting what you paid for with the coverages.
If you still have questions, give us a call and we can look at your policy and make sure you are protected.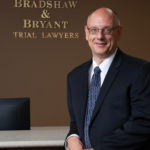 A founding partner with Bradshaw & Bryant, Mike Bryant has always fought to find justice for his clients—knowing that legal troubles, both personal injury and criminal, can be devastating for a family. Voted a Top 40 Personal Injury "Super Lawyer"  multiple years, Mr. Bryant has also been voted one of the Top 100 Minnesota  "Super Lawyers" four times.