Last week on my way back from Florida I had the chance to use the light rail from the airport to Target field.   It was fast and it was a very interesting experience.   I had no idea how tickets worked, so just as I got there,  a train  pulled up and so I got on.   I looked around and there was nothing to pay and no one to ask.  So I rode couple of stops and on walked a couple of Minneapolis police  officers.   They start going up to each rider and they produce a ticket.   They get to me and I just shrug and say I had no idea.  They confirm where I am going and tell me to buy at ticket at the kiosk for a ride back.  I wondered if I wasn't an old white guy in a golf shirt if it would have been that easy.
I read with interest the Minneapolis Tribune story this weekend about the need for more police officers as the lines have now expanded.   The police offers have a lot to do.    They are dealing with three main issues:  Theft,  drunkenness,  and no tickets.  By having regular areas to deal with,  they have a chance to get to know the riders and the issues that come in certain geographic areas.
They also are involved with making sure that pedestrians and cars in and around new routes get used to these moving trains.   So they are involved in efforts to educate the public both inside and outside the train.   They have been handing out pamphlets reminding riders that laptops,  cellphones,  and purses are easy targets in the hustle and bustle of train changes.
Hopefully,  the new lines will work out.    It really is an easy way to travel.  Also,  yes I did buy a ticket at the Target Field station.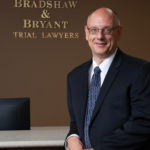 A founding partner with Bradshaw & Bryant, Mike Bryant has always fought to find justice for his clients—knowing that legal troubles, both personal injury and criminal, can be devastating for a family. Voted a Top 40 Personal Injury "Super Lawyer"  multiple years, Mr. Bryant has also been voted one of the Top 100 Minnesota  "Super Lawyers" four times.