Shannon Stone took his boy to the ballgame. And he almost caught a souvenir baseball for the boy, but it cost him his life and cost the boy a father.
http://www.youtube.com/watch?v=ShYWxWLaYHY
The New York Times did a nice story describing the horrible incident, and pointing out the prior similar incidens that had occurred at the same stadium.
So are the Texas Rangers at fault?
Railing standards vary by local zoning ordinances in the US. Some places are lower than the 38-40 inches necessary to keep the rail above the center of gravity of most people.
But sit behind those 38" rail, and you see why the lower rails are preferred…. it's right at eye level, making the first row the worst row.
But above a 20 foot drop onto concrete? Clearly the risk outweighs the inconvenience, or more likely, the discount they'd have to give for those obstructed seats.
The player tossing the ball doesn't seem negligent… Negligence is the failure to exercise reasonable care. Is it unreasonable to toss a ball a few feet short? Seem reasonable, but in most states that question would go to the jury.
Yes, there's clearly an argument of negligence on poor dead Shannon Stone. But his knowledge of the situation is going to be compared to the Rangers, who are in possession and were involved in every aspect of design and construction. They know (or should know) the danger. Shannon certainly did not have the same level of knowledge.
Complicating it all is the stadium serving booze… often there's an enhanced duty when you're profiting by serving intoxicating beverages to your fans.
Interesting also to note that residential decks have much higher standards in most places.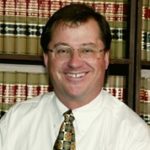 As a partner with Bradshaw & Bryant, Joe Crumley has over 20 years experience with the firm—helping injured people and their families to secure just and fair compensation. Excelling in personal injury litigation, Mr. Crumley has secured numerous record-setting verdicts and settlements and won accolades such as MTLA's "Trial Lawyer of the Year" and "Excellence" Awards.