The country roads of Minnesota can be scenic short cuts across the state, but, with spring planting under way, we know that farm equipment is back on the road. Sure, it can be slow and bothersome for the amount of road the vehicles take up, but the reality is that the farmers are working.
Over time we've represented a number of people who have been in collisions involving farm equipment. Rarely are the effects minimal.
• Give farm vehicles and hauling trailers more space and remember that they normally travel more slowly.
• Watch for debris falling from the vehicles. If there is debris, it's safer to brake or drive through it than steer into
Diane DeWitte, County Extension Educator offered these safety tips:
"They are really trying to get the work done as efficiently as possible, but they need to be able to eat right and rest if they can."

There have already been a few farm related incidents this year, and while accidents happen, it is important to take as many precautions as possible. Officials stress performing inspections before going out to work, informing family members when they are expected back, and bringing safety equipment like fire extinguishers into the field. When moving in between fields, if possible, have someone follow the farm equipment to put a buffer between the traffic and the tractor.

Safety also includes the general public sharing the road with farm implements.

"Now is the time when there's a lot of work happening and to be patient on the roads because they have to move, they have to use our county roads to move their equipment," says DeWitte.

Trying to take advantage of the good weather, farmers may be moving equipment into the evening hours. While most should have proper lighting and slow moving vehicle notifications, it is important for the general public to be mindful how just how slow they are going.
The key is to slow down and keep a good look out.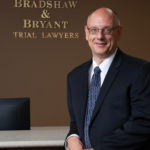 A founding partner with Bradshaw & Bryant, Mike Bryant has always fought to find justice for his clients—knowing that legal troubles, both personal injury and criminal, can be devastating for a family. Voted a Top 40 Personal Injury "Super Lawyer"  multiple years, Mr. Bryant has also been voted one of the Top 100 Minnesota  "Super Lawyers" four times.