Every 90 minutes, a pedestrian is struck and killed by a drunk, distracted, or otherwise reckless driver. Since people on foot have zero protection from the force of impact, those who are fortunate enough to survive such accidents tend to sustain serious injuries.
In other words, if you happened to survive a pedestrian accident, you may not actually be feeling all that lucky. Unanticipated injuries can take a major toll on your physical, emotional, and financial wellbeing.
While bringing a personal injury claim won't undo the trauma you've experienced, it could relieve the financial burden you're now facing as a result of the wreck. Before you can recover a payout, though, you will have to build a strong claim, which starts by taking the following steps:
1. Seek Adequate Medical Care
Visit a qualified physician as soon as possible after the accident. Even if you sustained only a few bruises and lacerations, it is essential to undergo a comprehensive exam without delay.
Some impact injuries might not manifest immediate symptoms, but they can cause devastating complications if left untreated. Seeking prompt care will also demonstrate a commitment to mitigating damages, which will be important when it comes time to negotiate for a settlement.
2. Follow Your Doctor's Orders
If your doctor advises you to stay out of work or avoid strenuous activities, be sure to do so. You should also prioritize all follow-up appointments. If you do not obey your doctor's orders, the insurance company might assert that your own negligence has exacerbated your medical condition or prolonged your recovery, which could lead to the reduction of your financial award.
3. Deactivate Your Social Media Accounts
Insurance adjusters have a number of strategies for denying or devaluing the cases they review, and monitoring a claimant's online presence is one of them. If you publish anything that indicates you may have been at fault or photos that show you out with friends, they could impact your ability to obtain fair compensation.
If disabling your accounts is not an option, adjust your privacy settings so only approved friends or followers can see what you post. This will provide an added layer of protection; however, you should still avoid publishing anything about the accident, your injuries, the case, or your social life.
4. Write Daily Journal Entries
For the first entry, write down everything you remember about the accident in question. No detail is too small to include.
You should also copy over the names and phone numbers of the eyewitnesses and the names and badge numbers of the responding officers. This will ensure all pertinent details are in one convenient place.
For each entry thereafter, write about your doctor's appointments and the progression of your overall recovery. You should write about your symptoms and the ways in which the injuries are affecting your everyday life, as well.
5. Call a Personal Injury Attorney
You should speak with a lawyer right away so your legal team has the opportunity to gather time-sensitive evidence. Handing over control of your case from day one will also prevent you from providing a recorded statement to the insurance company and making other mistakes that would harm your claim.
Call 320-259-5414 to Discuss Your Case with a St. Cloud Pedestrian Accident Attorney
If you are recovering from injuries sustained in a pedestrian accident, contact Bradshaw & Bryant. Call 320-259-5414 or use our Online Contact Form to set up a free case evaluation with a pedestrian accident lawyer in St. Cloud.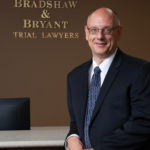 A founding partner with Bradshaw & Bryant, Mike Bryant has always fought to find justice for his clients—knowing that legal troubles, both personal injury and criminal, can be devastating for a family. Voted a Top 40 Personal Injury "Super Lawyer"  multiple years, Mr. Bryant has also been voted one of the Top 100 Minnesota  "Super Lawyers" four times.