The federal panel responsible for product safety today voted unanimously to ban most of the cribs that have been sold in this country. The Consumer Product Safety Commission vote bans the sale or resale of all drop-side cribs. These are the cribs where one or both sides drop down to allow the parent easier access to the crib. The rule will now require fixed sides on all cribs sold or resold, beginning in June.
The Associated Press reported:
The move by CPSC would also prohibit hotels and childcare centers from using drop-sides, though those facilities would have two years to purchase new cribs.

CPSC Chairman Inez Tenenbaum hailed the new standard for cribs as one of the strongest in the world.

"I believe these new standards will markedly reduce crib-related hazards and help to ensure that young children sleep more safely in their cribs," Tenenbaum said after the vote.
At least 30 children have been killed by defective cribs, primarily because of manufacturing or design defects involving the drop side of the crib. This results in a dangerous "V-opening" which can result in strangulation of the baby.
There have been millions of such cribs recalled, as written about here previously, but this is the first overall ban by the government.
Hopefully this change will save many lives.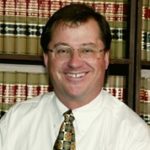 As a partner with Bradshaw & Bryant, Joe Crumley has over 30 years experience helping injured people and their families to secure just and fair compensation. Excelling in personal injury litigation, Mr. Crumley has secured numerous record-setting verdicts and settlements and won accolades such as MTLA's "Trial Lawyer of the Year" and "Excellence" Awards.