Distracted driving has become a national issue in the last several years. The term "distracted driving", while largely associated with cell phone use while driving, can encompass a wide range of multitasking activities drivers do while behind the wheel. Things as small as talking to passengers and changing the radio station lead to visual, manual and cognitive distractions that impair a driver's abilities. And of course, those more intense activities like cell phone use, reading or using a navigation system have the same—or worse—impact. Distracted driving is a factor in nearly 20% of injury crashes in the United States, causing an estimated 5,474 deaths.
Now, even automakers are getting in on efforts to curb distracted driving. However, an article by FairWarning points out, there are questions about just how genuine the industry is being and whether their efforts are really having a net positive effect.
Several automakers have launched programs aimed at encouraging drivers to heed traffic laws and avoid distractions while behind the wheel. Ford has the "Driving Skills for Life" program; BMW has put out "Don't Text and Drive" ads. The Alliance of Automobile Manufacturers and the American Academy of Orthopaedic Surgeons are collaborating on similar campaigns.
These are necessary programs to be sure, but when stacked up against how auto makers contribute to distracted driving, it's easy to wonder if they are enough. Many cars today come loaded with communication and entertainment technology which are among the key issues in distracted driving. Ford cars, for example, have what is known as the SYNC system which helps drivers to make and receive phone calls and listen to text messages. BMW vehicles have the ConnectedDrive system which allows drivers to make calls, get emails and texts read to them and actually displays headlines of messages on a screen. Staying "connected" is becoming standard in auto technology.
While these technologies are praised by the industry as a way to keep drivers' eyes on the road and hands on the wheel, research indicates that distracted driving is about much more than that. Even with the hands and eyes where they need to be, cognitive distractions means that drivers simply can't react as quickly or as well to sudden traffic issues. Safety groups and the National Highway Traffic Safety Administration (NHTSA) focus their efforts on getting drivers to simply turn off their phones and electronic devices when they get behind the wheel. To date, there is little to no federal regulation of what sort of electronic devices manufacturers put in their cars. That might soon be changing as NHTSA is working on developing guidelines to address visual and manual distractions in cars.
Until that regulation exists though, it's wise to keep our eyes on the automakers. Right now, there is a pretty stark difference between what they are saying in their ad campaigns and what they are doing with regards to car design.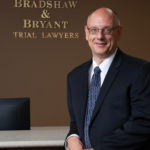 A founding partner with Bradshaw & Bryant, Mike Bryant has always fought to find justice for his clients—knowing that legal troubles, both personal injury and criminal, can be devastating for a family. Voted a Top 40 Personal Injury "Super Lawyer"  multiple years, Mr. Bryant has also been voted one of the Top 100 Minnesota  "Super Lawyers" four times.