There is a longer story today in the Minneapolis Tribune about what is the latest in the Nienstedt Case.   Looking at it,  there clearly is a lot of issues up in the air.  What struck me was the end of the article:
What the archdiocese decides to do with the investigation is being monitored by Twin Cities Catholics as well as national Catholic authorities, who say the St. Paul situation is extremely rare.

Facing scores of priest abuse claims, bankruptcy, civil and criminal charges — and the Nienstedt investigation controversy — the archdiocese is in uncharted terrain.

"I rarely say anything is unique in the Catholic Church, but this is a pretty unique situation," said the Rev. Thomas Reese, senior analyst for National Catholic Reporter.
I got to ask:  What is unique?
There are scores of abuse cases across the world.   Thanks to the Child Victims Act survivors in Minnesota can do something about them.
The  Archdiocese of St. Paul and Minneapolis is one of a number of diocese that have or are using the bankruptcy courts to limit their liability.
Civil claims have for the most part been the only way that survivors have been able to force the Church to do anything.
IT IS THE CRIMINAL CHARGES!! Finally,  these individuals are looking at being questioned the way they should be after claims of child sexual abuse.  Finally,  there are real investigations that can be done with police power that are pushing for answers.  That is the real story.
If you or someone you know has a claim that involves the Archdioceses of Minneapolis and St Paul: The deadline  for claims against the Archdiocese of St. Paul and Minneapolis, is August 3rd.
Nationally renowned priest abuse attorney Jeff Anderson's website details instructions. There are a number of key points:
• You must file a claim by August 3rd.
• Your privacy and confidentiality can be protected.
• Filing your claim can help you and help protect children.
Please act now, because any further delay will result in loss of your right to make a claim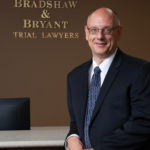 A founding partner with Bradshaw & Bryant, Mike Bryant has always fought to find justice for his clients—knowing that legal troubles, both personal injury and criminal, can be devastating for a family. Voted a Top 40 Personal Injury "Super Lawyer"  multiple years, Mr. Bryant has also been voted one of the Top 100 Minnesota  "Super Lawyers" four times.