It's been great to have a forum to talk about making the world safer, but even more important has been the opportunity to learn from Legal Examiner and great lawyers across the country. Here's the list of what the most viewed pieces have been for 2016.
Spend Down & Special Needs Trusts: Financial Security After Settlement,   John Bair,  July 28, 2016 9:25 AM
VW Still Considering a Buy-Back of About 50,000 Vehicles, Steven Cohn,  March 16, 2016 4:33 PM
Flood Insurance – Quick Facts,   J.R. Whaley,  August 16, 2016 6:10 PM
What Can A Special Needs Trust Pay For?,  John Bair,  August 31, 2016 2:08 PM
Tougher Texting & Driving Bills Introduced in Florida Legislature,  Nicholas Primrose,  January 19, 2016 12:49 PM
Individualized Education Programs: Eligibility & Requirements,  John Bair,  May 19, 2016 4:20 PM
Nexium and Prilosec Kidney Failure Lawsuits,  Shezad Malik MD JD, April 18, 2016 1:37 PM
BP to blame for payment delays, not Deepwater Claims Administrator Juneau, Tom Young, March 21, 2016 5:56 AM
John Miles McClure II MD is a Cardiologist in the Saginaw, Midland, Bad Axe, and Mt. Pleasant Area and May Have a Problem,  David Mittleman,  June 2, 2016 11:26 AM
Alleged Child Decapitation on Water Slide Highlights Ride Safety,  Rick Shapiro,  August 14, 2016 11:55 AM
Here is the top ten from our St Cloud blog.
Here is the top ten from our Minneapolis blog.
Worth reading also :
Top 10 Civil Justice Stories of 2016, Part One, Rick Shapiro,  December 21, 2016 12:20 PM
Top 10 Civil Justice Stories, Part Two,   Rick Shapiro, December 27, 2016 9:30 AM
I look forward to reading more of this great stuff in 2017.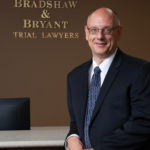 A founding partner with Bradshaw & Bryant, Mike Bryant has always fought to find justice for his clients—knowing that legal troubles, both personal injury and criminal, can be devastating for a family. Voted a Top 40 Personal Injury "Super Lawyer"  multiple years, Mr. Bryant has also been voted one of the Top 100 Minnesota  "Super Lawyers" four times.