This year has been a busy one. We thank everyone, who took the time to read any of our posts. It was especially gratifying to have so many people weight in with comments. Here s a list of our most viewed posts in 2011.
Doctors Will Be Looking At Head Injury With Derek Boogaard's Death (Update), Mike Bryant | May 15, 2011 1:04 AM
Nintendo 3DS: Launch with a Warning, Mike Bryant | March 26, 2011 12:51 PM
Can I Still Get My Driver's License if the Government is Shut Down?, Nicole Bettendorf | July 03, 2011 6:16 PM
June 30th: Maroon Day The Deadliest Day on Minnesota Roads. (Update), Mike Bryant | June 30, 2011 10:43 AM
Michael W. Weber : St. Cloud Diocese to Have a Listening Session ( 2 Update), Mike Bryant | November 13, 2011 7:09 PM
Let's Have a Safe Black Friday, Mike Bryant | November 24, 2011 12:34 PM
Jennie-O Turkey Store Recalls 55,000 pounds of Turkey Burgers, Mike Bryant | April 03, 2011 5:38 PM
What is Going On with Johnson & Johnson?, Mike Bryant | April 25, 2011 7:00 PM
The Effects of Radiation, Mike Bryant | April 14, 2011 8:19 AM
Car Crashes with Cows, Horses, and other Animals,Joe Crumley | January 19, 2011 2:46 PM
Here is the top ten from our St Cloud blog.
We hope to build off this year with the Minneapolis blog and post even more in 2012.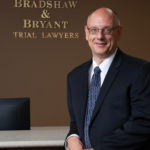 A founding partner with Bradshaw & Bryant, Mike Bryant has always fought to find justice for his clients—knowing that legal troubles, both personal injury and criminal, can be devastating for a family. Voted a Top 40 Personal Injury "Super Lawyer"  multiple years, Mr. Bryant has also been voted one of the Top 100 Minnesota  "Super Lawyers" four times.