Hotel guests are considered invitees. Under premises liability law, invitees are individuals who are lawfully allowed to be on the property because they received an explicit or implied invitation from the owner or occupier.
In other words, invitees are there for the owner's benefit. Licensees, on the other hand, are there for their own benefit.
When it comes to maintaining their premises, owners and occupiers have the highest duty of care to invitees. Whereas they owe less to licensees and almost nothing to trespassers, they must ensure their property is free of virtually all hazards for invitees. If they fail to do so, invitees who end up getting hurt may be entitled to compensation.
That means if you slipped and fell at a hotel, you may have grounds for a personal injury claim. Whether you'll actually recover a payout, though, will depend on the strength of the evidence you present.
Let's take a look at the four elements you'll have to prove for your case to have a chance of success:
1. A Duty of Care
First, you'll have to demonstrate that the hotel owed you a duty of care. As long as you were a paying guest—or visiting someone who was—at the time of the accident, you should be able to prove that you were, in fact, an invitee.
2. A Breach of Duty
If you merely lost your footing and tripped, you won't be able to sue the hotel for damages. The facility is only liable if their staff was somehow negligent. In other words, they can only be held accountable if they knew—or should have known—about the slipping hazard but failed to address it in a timely fashion.
3. Causation
The slip and fall must have been directly responsible for the injuries you sustained. If you cannot demonstrate a link between the accident and your condition, you won't be able to seek compensation.
Evidence that may help you prove causation includes diagnostic images, photographs of any visible wounds, statements from accident reconstruction experts, and testimony from relevant medical specialists.
4. Damages
Without actual damages, there is no tort claim. To have grounds for action against the hotel, you must have incurred legitimate losses as a direct result of the slip and fall.
When it comes to personal injury-related damages, Minnesota recognizes both monetary and non-monetary losses. Examples include:
• Loss of enjoyment in life;
• Mental anguish;
• Pain and suffering;
• Home and vehicle modifications needed to accommodate any physical disabilities stemming from the accident;
• Domestic help;
• Child care;
• Reasonably necessary replacement services;
• Lost wages;
• Loss of future earnings; and
• Medical expenses.
Discuss Your Claim with a Hotel Accident Attorney in Minneapolis
If you slipped and fell at a hotel, turn to Bradshaw & Bryant for guidance. We'll investigate the circumstances surrounding the accident and help you determine how best to proceed.
By having our resourceful team handle your claim, you can focus on other, more important aspects of your life. To schedule a free consultation with a hotel accident lawyer in Minneapolis, fill out our Contact Form or call 800-770-7008.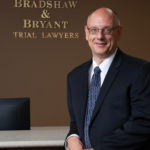 A founding partner with Bradshaw & Bryant, Mike Bryant has always fought to find justice for his clients—knowing that legal troubles, both personal injury and criminal, can be devastating for a family. Voted a Top 40 Personal Injury "Super Lawyer"  multiple years, Mr. Bryant has also been voted one of the Top 100 Minnesota  "Super Lawyers" four times.