If you slipped or tripped on the sidewalk and suffered an injury, you may be wondering who's to blame. After all, you won't be able to pursue compensation for your medical bills or lost wages unless you identify the liable party—and you won't be able to establish liability unless you can prove negligence.
In other words, you will have to identify the party that was responsible for maintaining the sidewalk and then you will have to determine how they breached the duty of care owed to you. In the state of Minnesota, there are several parties who could be deemed liable for a sidewalk slip and fall accident.
Both property owners and municipalities are obligated to maintain the sidewalks, but their specific duties vary among jurisdictions. In Minneapolis, for example, the sidewalks surrounding single-family homes and duplexes must be cleared by property owners within 24 hours of the snow stopping. The sidewalks surrounding all other structures must be cleared within four daytime hours (8 a.m. to 5 p.m.).
That means if you slipped and fell on snow or ice that wasn't cleared in a timely manner, you might have grounds for a claim against the individual who owns the property adjacent to the sidewalk. If, on the other hand, you tripped over crumbling concrete, you might be able to sue the public works department.
As with any premises liability claim, a number of factors will determine whether the government actually covers the damages you incur. If tree roots damaged the sidewalk, for example, it's reasonable to assume the crumbling concrete had been an issue for a while because trees don't start snaking under concrete overnight. As long as the municipality knew—or should have known—of the hazard, your claim has a chance of success.
If, on the other hand, you tripped over an unmarked curb that was relatively new but had yet to be painted, recovering compensation could pose a challenge. This is especially true if the curb was marked off by tape or cones because it indicates the municipality was planning to address it promptly.
What Should I Do After Slipping and Falling on the Sidewalk?
If you fell in front of a business, ask the staff for an incident report. Even if none of the employees saw the accident, they should record your statements—and those of any eyewitnesses—in writing. Make sure to photograph the tripping hazard and then seek prompt medical care.
If you fell in front of a residential property, notify the property owner in writing, photograph the tripping hazard from all angles, and then seek medical care. You should then consult an attorney.
Call 800-770-7008 to Discuss Your Case with a Minneapolis Premises Liability Attorney
If you slipped and fell on the sidewalk in front of someone else's property, turn to Bradshaw & Bryant to determine the best way to proceed. Call 800-770-7008 or use our Online Contact Form to set up a free case evaluation with a premises liability lawyer in Minneapolis.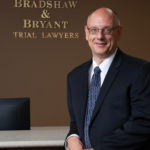 A founding partner with Bradshaw & Bryant, Mike Bryant has always fought to find justice for his clients—knowing that legal troubles, both personal injury and criminal, can be devastating for a family. Voted a Top 40 Personal Injury "Super Lawyer"  multiple years, Mr. Bryant has also been voted one of the Top 100 Minnesota  "Super Lawyers" four times.