Slip and falls are responsible for more than 1 million emergency department visits across the United States every year. While this figure is certainly high, it represents a mere fraction of the total number of people who slip and fall during any given 12-month period.
It's not uncommon for those who slip and fall to forgo medical treatment if they don't sustain any obvious injuries. Unfortunately, failing to seek prompt care could prove detrimental to both their health and the strength of any claims they end up filing.
If you slipped and fell on someone else's property but have yet to visit a doctor, here are three of the most important reasons to do so as soon as possible:
1. You May Have Sustained Injuries That Have Latent Symptoms
From internal bleeding to brain damage, there are a number of serious—and often life-threatening—injuries that don't manifest any symptoms for days or even weeks. Failing to address them right away, however, could result in considerable complications.
By visiting a local urgent care center or making a same-day appointment with your primary care physician and asking for a comprehensive evaluation, you can ensure the prompt treatment of any and all injuries, including those that aren't apparent to you yet.
2. You Need to Demonstrate a Commitment to Mitigating Damages
If you slipped and fell because the property owner or occupier failed to exercise reasonable care, you may have grounds for a personal injury claim. In order to recover a fair payout, though, you'll have to demonstrate a commitment to mitigating damages. Seeking treatment right away is the first step to doing so, and following your doctor's orders once you do is the second.
3. You Need to Link Your Injuries to the Incident in Question
To build a strong slip and fall claim, you must prove causation. That means you must demonstrate how the liable party's negligence is directly responsible for the damages you've since incurred. In other words, there must be a clear link between the defendant's breach of duty, the accident that occurred, and the losses you suffered.
If you wait weeks or even months to seek medical care, it will be fairly easy for the liable party to challenge causation. Letting too much time pass between when you slipped and fell and when you start treatment makes it virtually impossible to prove that your injuries are consistent with the incident in question.
Speak with a Minneapolis Premises Liability Attorney Today
If you were seriously hurt on someone else's property, contact Bradshaw & Bryant. We understand the physical, emotional, and financial toll that unanticipated injuries can take on the whole family. That's why we'll use all the resources at our disposal to help you pursue the compensation needed to make your life whole again.
For six consecutive years, attorney Michael Bryant has been recognized as a SuperLawyer and has been named among Minnesota's Top 40 Personal Injury Lawyers by Minnesota Law & Politics. Call 800-770-7008 or fill out our Contact Form to schedule a free consultation with a premises liability lawyer in Minneapolis.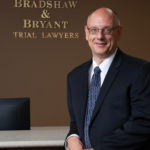 A founding partner with Bradshaw & Bryant, Mike Bryant has always fought to find justice for his clients—knowing that legal troubles, both personal injury and criminal, can be devastating for a family. Voted a Top 40 Personal Injury "Super Lawyer"  multiple years, Mr. Bryant has also been voted one of the Top 100 Minnesota  "Super Lawyers" four times.